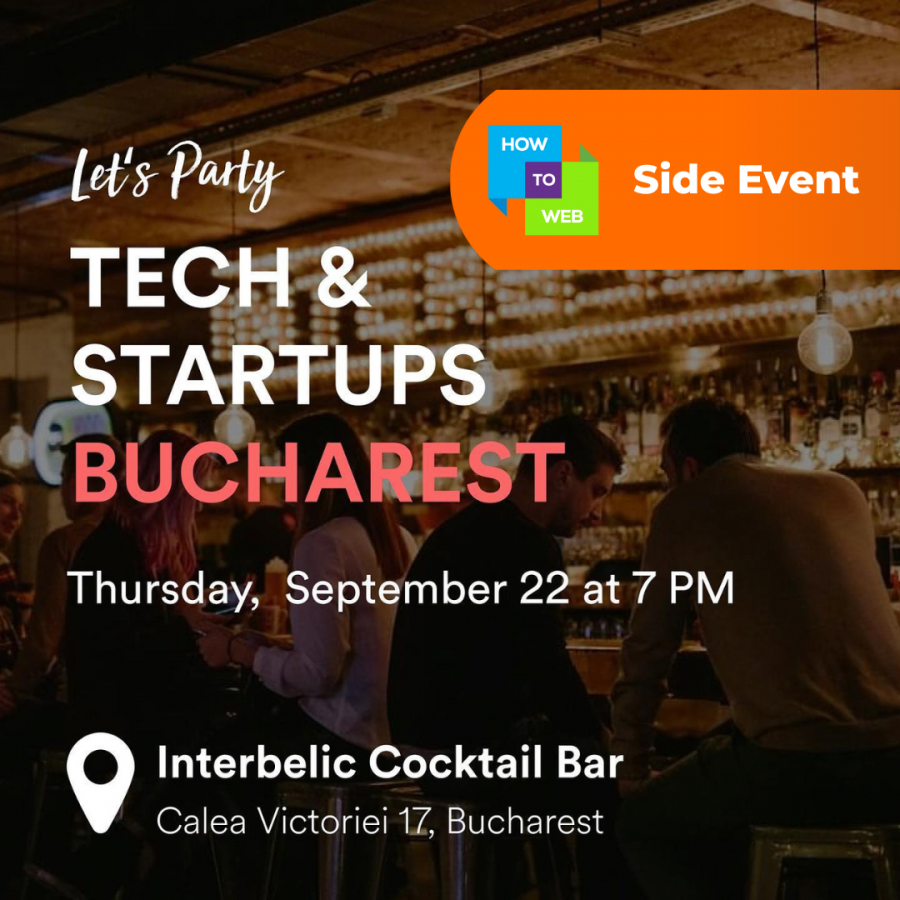 Let's Party Tech & Startups
No keynotes, no speeches, just drinks, and networking.
Let's get together at Interbelic Cocktail Bar to celebrate 5 years of Tech & Startups. ?
The official party starts at 7 PM on September 22, offering the perfect opportunity to meet with like-minded professionals, connect with potential new business partners and celebrate.
No keynotes, no speeches, just drinks, and networking.
Invite your friends as well, and you'll have a good time.
See you soon!
__________
Tech & Startups it's a vibrant community of tech enthusiasts with 2,2Kmembers on Meetup.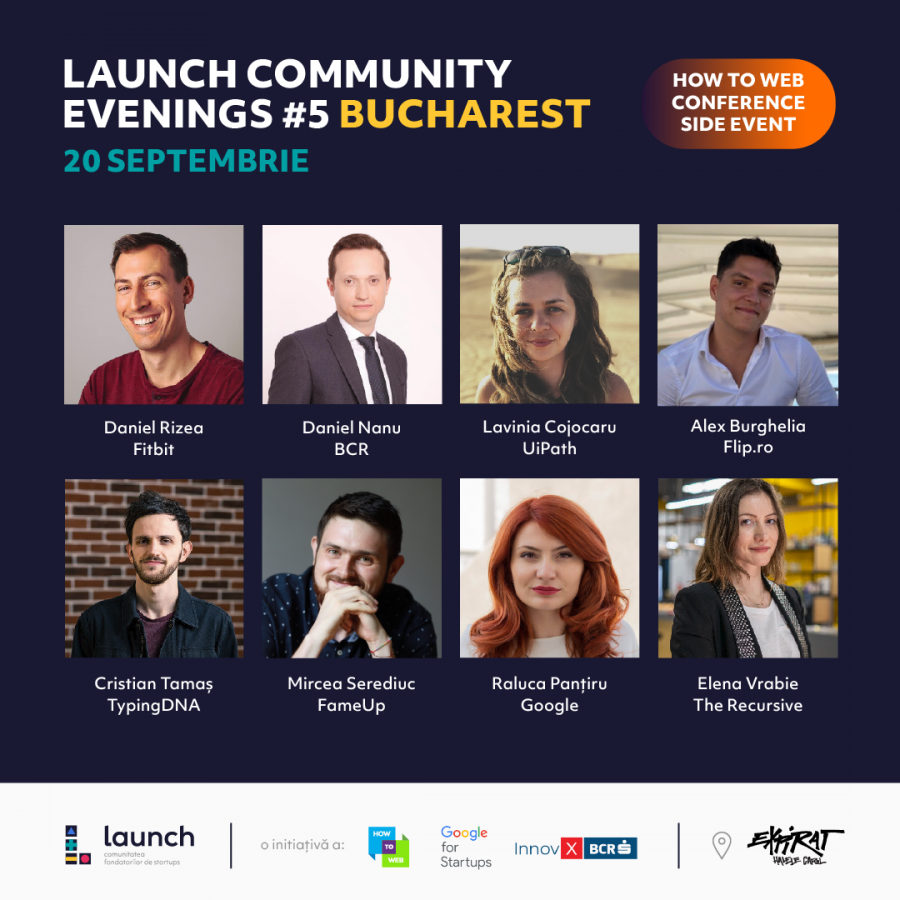 Launch Community Evenings #5 Bucharest
How to Web Side Event
The fifth edition of Launch Community Evenings will take place at Club Expirat on September 20. The event is moderated by Mircea Serediuc (Product Manager, FameUp). Founders from top startups of the Launch community will pitch their products to the public and receive feedback from the evening's guests. The program also includes a talk moderated
The program also includes a talk moderated by Elena Vrabie (Sales & Senior Content Manager, The Recursive) with guests Cristian Tamaș (TypingDNA) – with insights on an emerging technology company from early to global outreach – and Raluca Panțiru – on building a tech product acquired by giant Google.
Join us & other guests in this local startups scene gathering:
– Daniel Rizea – Director Software Engineering, Fitbit
– Daniel Nanu – Head of Micro Sales, BCR
– Lavinia Cojocaru – Co-founder, UiPath
– Cristian Tamaș – Co-founder & CMO, TypingDNA
– Alex Burghelia – Co-founder, Flip.ro
– Elena Vrabie – Sales & Senior Content Manager, The Recursive
– Mircea Serediuc – Product Manager, FameUp
– Raluca Panțiru – Product Manager, Google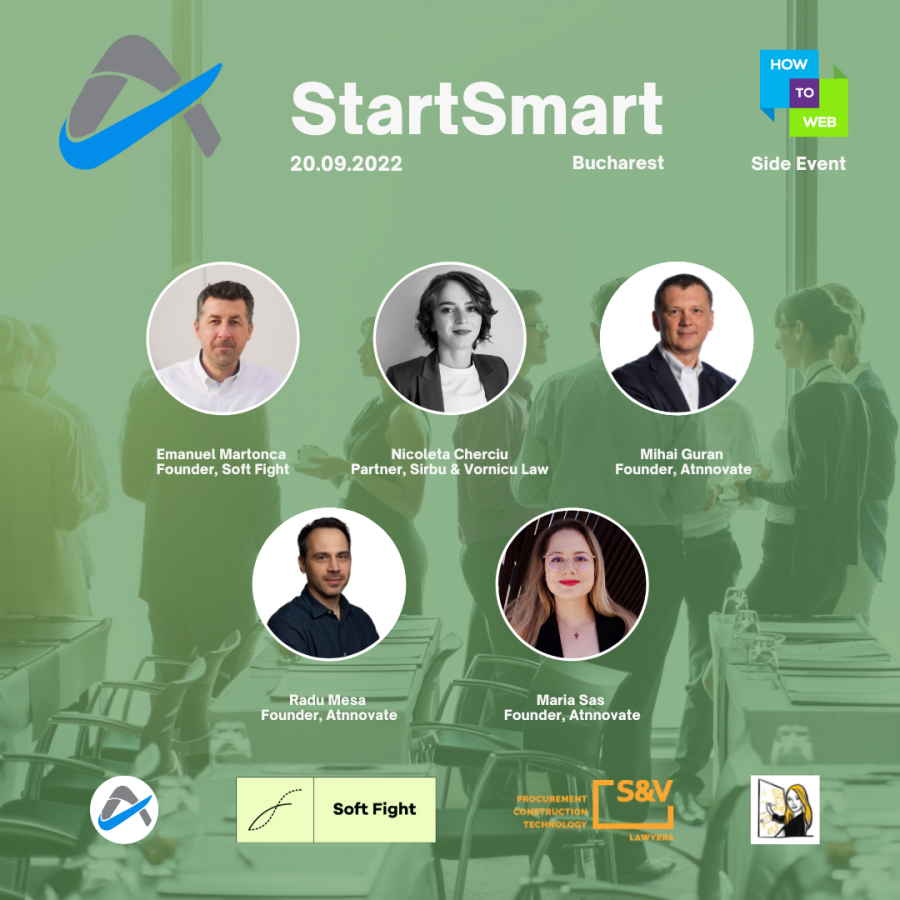 Start Smart
Learn from others' mistakes, not from yours
Northern/ City Center, Bucharest
If you are a startup founder or manager, this event is for you.
We partnered with the best Romanian experts in business strategy, sales and sales management, marketing, pricing, legal, and performance management to share the most common and expensive mistakes startups make and how you can align and execute better your growth strategies.
Any startup will be more effective and waste less energy and resources during the first years if some of the presented strategies are applied.
The Agenda
1. Legal – Nicoleta Cherciu (Partner, Sirbu & Vornicu Law)
2. Pricing – Emanuel Martonca (Pricing Strategist and Founder, Soft Fight)
3. Business & Sales Strategies – Mihai Guran (Founder & Managing Partner, Atnnovate)
4. Brand Image & Digital Marketing – Maria Sas (Founder & Managing Partner, Atnnovate)
5. Performance Management – Radu Mesa (Founder & Managing, Atnnovate)
Special Guest – Graphic Facilitator, Anca Burlacu
Price: 33,27€ Early Bird , 53€ Full Price (the price is covering logistic costs)
cc: Nights in Bucharest
Meet and engage with foremost experts!
Join the live conversation for 360° entrepreneurship!
Mingle with just as valuable guests as you are accompanied by a drink in a chill atmosphere.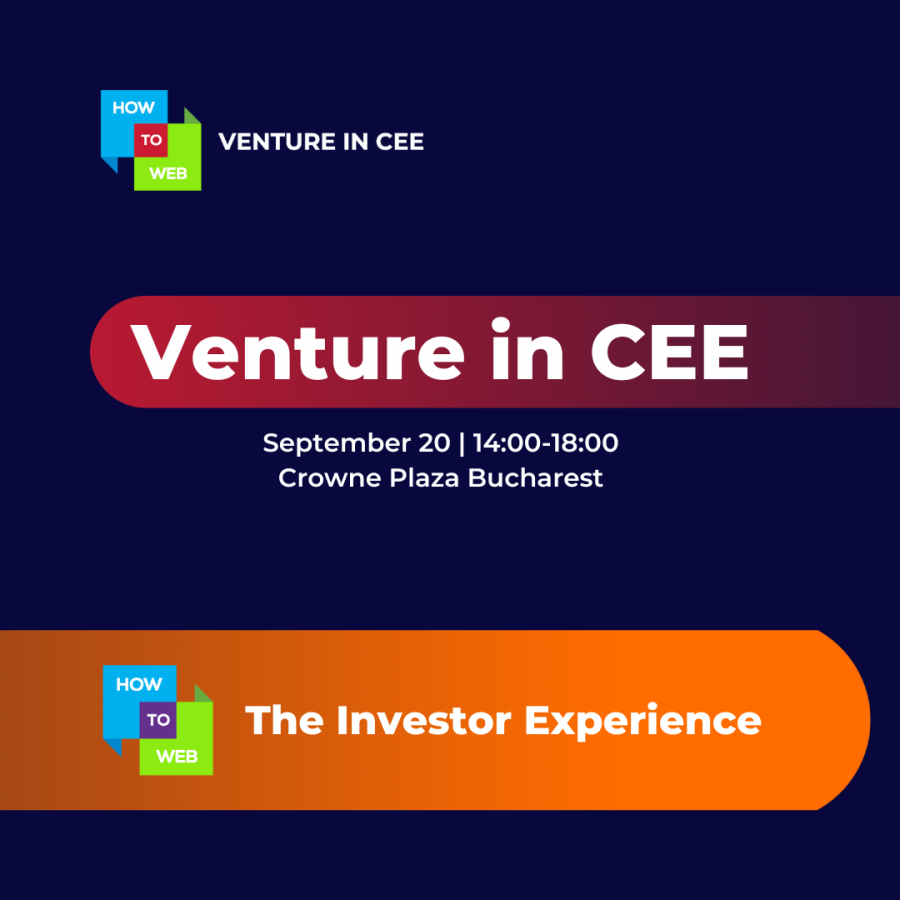 Venture in CEE
Trends and news in the CEE investment sector
At its 7th edition, the event will discuss best practices on investing and collaboration by some of the leading players in the European industry, both LPs and investors. Agenda and the full schedule will be announced soon. See the list of top-notch journalists and speakers that joined us over the last years.
This is an invitation-only event. If you are interested in attending, please, register your interest here.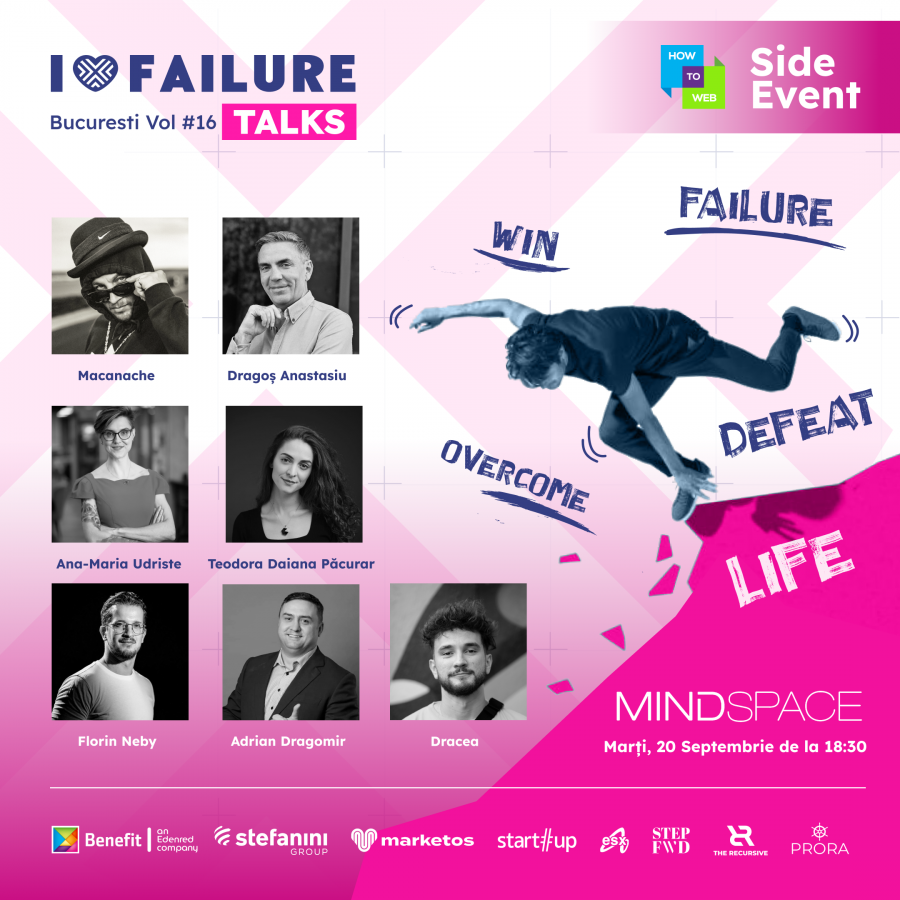 I ? Failure TALKS
Bucuresti | Vol #16
Get ready to listen to people who have impressed the nation with their performances and life stories. This time they are here to impress you with their failures.
??? ?????
? ?????? ???? ?? ??????? – be part of our community and live life to the fullest without fear of failure.
? ???? ????? ?????????? – At our events, you will meet from C level executives & investors to the biggest influencers, top athletes and artists.
? ????????? ??????? ?- listen to amazing stories from people in the arena, people who have achieved amazing performances.
? ???? & ?????? ????? ? – only the best for our community: enjoy a glass of high-quality wine from Domeniul Bogdan with delicious finger foods.
? ???? ???????? – bring your team and have an awesome experience together, creating new fun memories.
Although we are used to talking only about our achievements in front of others, we all know that behind them we have countless stories of failure that have helped us grow. With I Love Failure, we aim to bring these stories out from behind the curtain and into the spotlight so that everyone else can learn from them and realise the importance of owning their own story.
In this edition, ??? ???????? are top performers in entrepreneurship, artists with incredible stories, lawyers, and world-renowned performers in sports.
?????????? – if you listened "Ăsta sunt eu" song, then you already know who he is; if you didn't listen to it yet, then listen to it now. Top Romanian hip-hopper.
???? – ????? ??????? – the founder of Avocatoo, one of the best Romanian websites in the legal field.
??????? ???? – World and European champion at aerobic gymnast, with over 20 years of practice, until 2010, when he gave up performance sport.
??????? ????????? – Owner of Eurolines, one of the most important public transportation company in Romania, serial entrepreneur and investor, founder of Rethink Romania
???????? ?????? ??̆????? – an independent actress originally from Sovata, resident of Bucharest for 10 years, who tries to keep her candor and enthusiasm in the crazy world of the capital.
??????? ???????? – with over 20 years of experience in the online environment, he is a co-founder in several companies, the best known being the business intelligence platform Termene.ro.
All the stories will be complemented by the unmistakable vibe of ?????? ??????, our stand-up comedian who makes sure we're left smiling in the face of failure.
Too much excitement for networking? Don't worry, wine is provided by our sponsor, ???????? ??????. The organic wine producer from Dobrogea, whose story started from a dream to offer exceptional and equally all-natural wines.
We'll create the perfect atmosphere, you just have to bring your failures.
????? ??????
18.30 – welcome, drinks, tasty food, and a bit of networking
19:00 – inspiring stories of failure + Q&A
20.30 – networking, fun, drinks, some more tasty food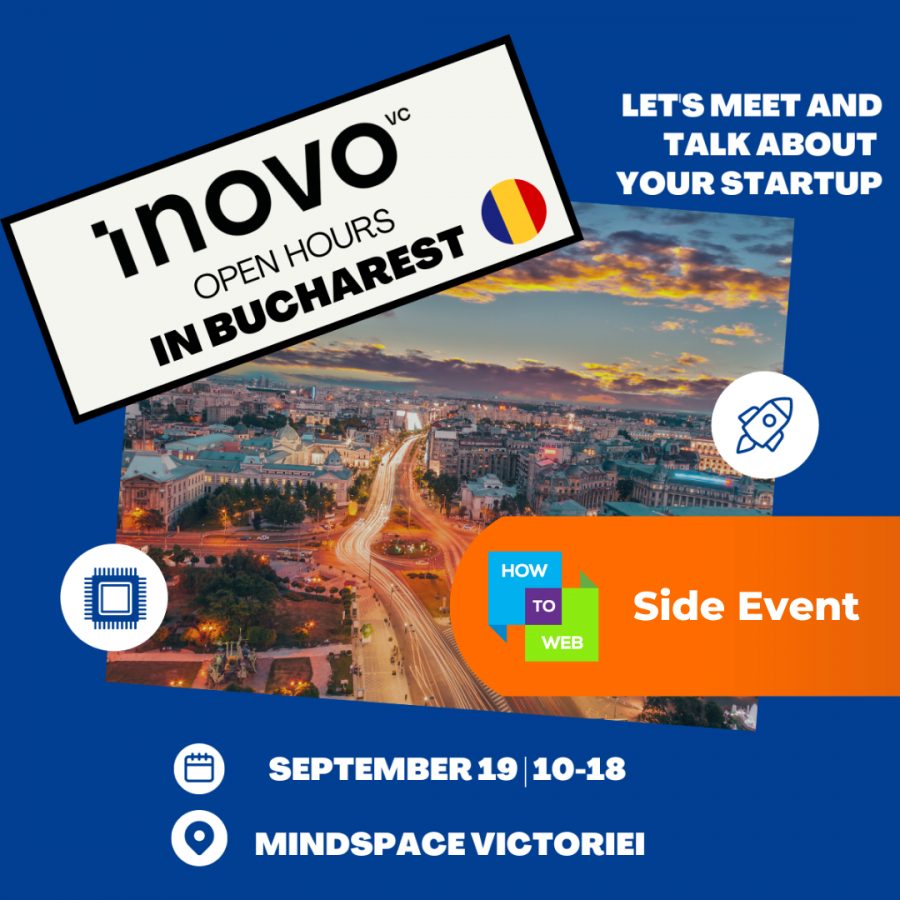 Inovo VC Open Hours in Bucharest
We are here for founders!
Inovo VC invests up to €4M mainly in B2B enterprise, marketplace, healthcare and dev tools/data science startups.
We're the first investors in, e.g. Booksy, Spacelift or Zowie and co-invested with Insight Partners, a16z or Tiger Global. Our second fund reached a total of €54M and we want our third one to reach €100M.
We are planning to invest up to €20M in the best Romanian startups! We're looking to support more of the top exceptional founders like Dragoș from Archbee?
You're one of them? Let's meet and talk about your startup!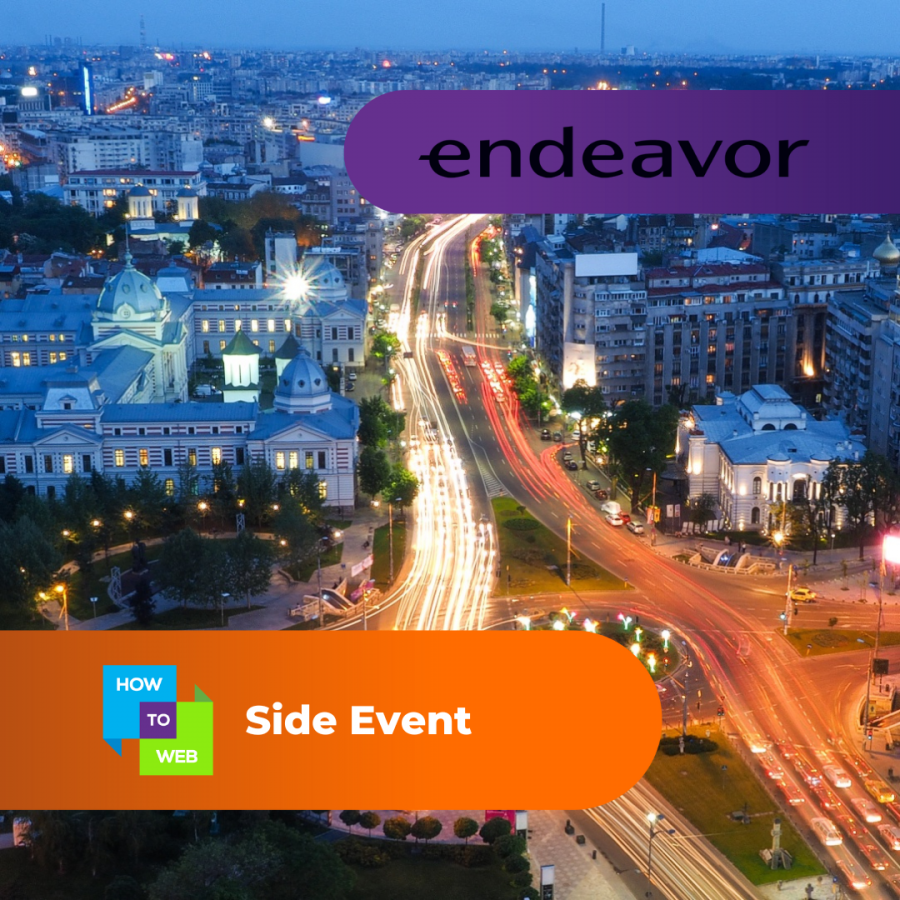 ENDEAVOR ROMANIA ANNUAL GATHERING
CELEBRATING ENTREPRENEURS
Clubul Diplomatic, Bucharest
On September 20, Endeavor Romania is excited to host its first in-person networking event, aimed at connecting the local communities of founders, business leaders, investors, and startup ecosystem enthusiasts. We will have a very special guest joining the event, the President of Endeavor Global, Adrian Garcia-Aranyos.
We look forward to welcoming you and building a stronger entrepreneurial ecosystem together.
See you soon!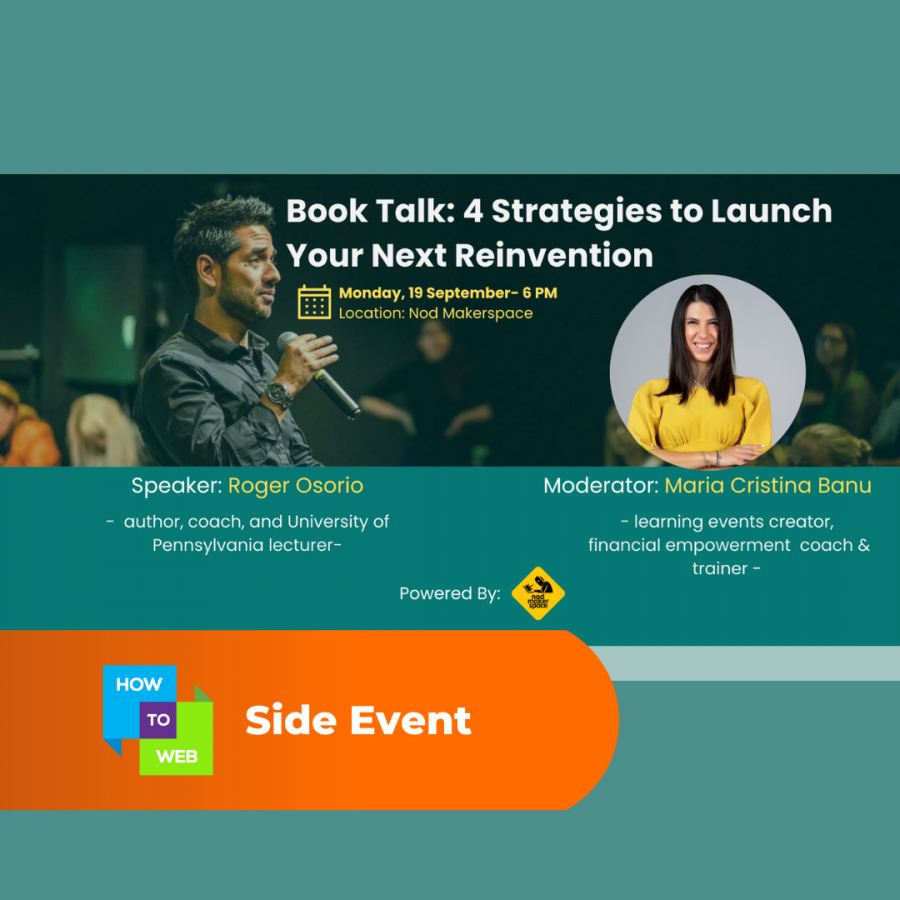 Book Talk
4 Strategies to Launch Your Next Reinvention
Nod Makerspace- Splaiul Unirii 160
A powerful speech and fireside chat, about how to reinvent the areas of your life that are no longer aligned with your values and aspirations, with US author and coach- Roger Osorio
In this private session, you will:
✅ Learn 4 practical strategies you can apply right away to successfully launch your next reinvention!
✅ Have an opportunity to ask Roger questions about your reinvention!
✅ Be among the first people on this planet who will get a glimpse of Roger's new book!
✅ Have the chance to get your signed copy of Rogers book!
More about Roger Osorio:
Roger Osorio is an author, reinvention expert, and founder of The School of Reinvention, a community-based coaching platform empowering people to launch and succeed in personal and career reinvention.
After graduating from Penn State University, Roger worked for a Fortune 500 company in marketing and sales. In 2008, after falling in love with a part-time job tutoring math, he quit his day job to reinvent his career. Since then, Roger has earned a masters degree in psychology and reinvented himself into a middle and high school math teacher, international speaker, executive coach at a major tech company, Ivy League educator, entrepreneur, and author.
When Roger isn't writing, he teaches entrepreneurship at University of Pennsylvania and Sarah Lawrence College.
More about Maria Cristina Banu:
Maria Cristina is a professional coach, trainer and creator of learning communities, programs and events.
Cristina and Roger collaborated on several successful learning programs until now, so she is thrilled to have the honor to host his first book launch in Bucharest.
The admission to this event is FREE but invite based only- in order to get your access fill-in the form in the Ticket Link – http://bitly.ws/tZK6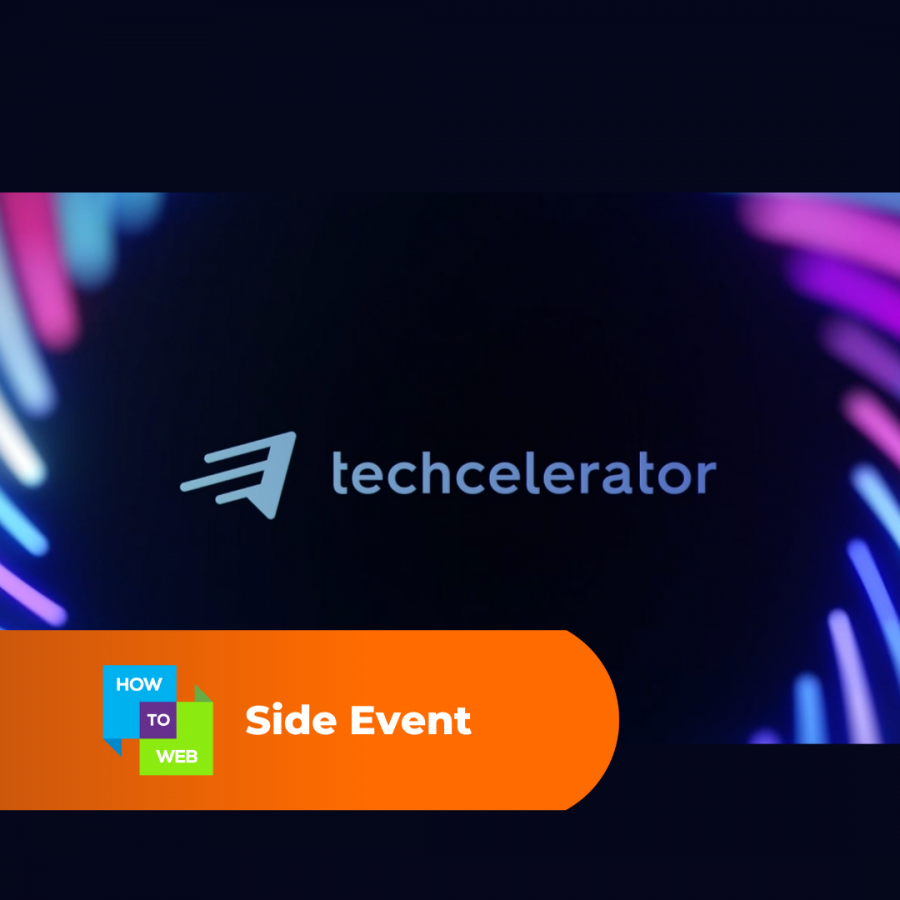 Crisis Survival Kit for Startups
Navigating the current market downturn
Techcelerator Headquarters
We will share tips & tricks and valuable insights on navigating the current market downturn from two of the most important VC investors in the region. Based on their expertise in previous downturns we will create a Crisis Survival Kit for Startups. We expect to have offline around 30 startup founders.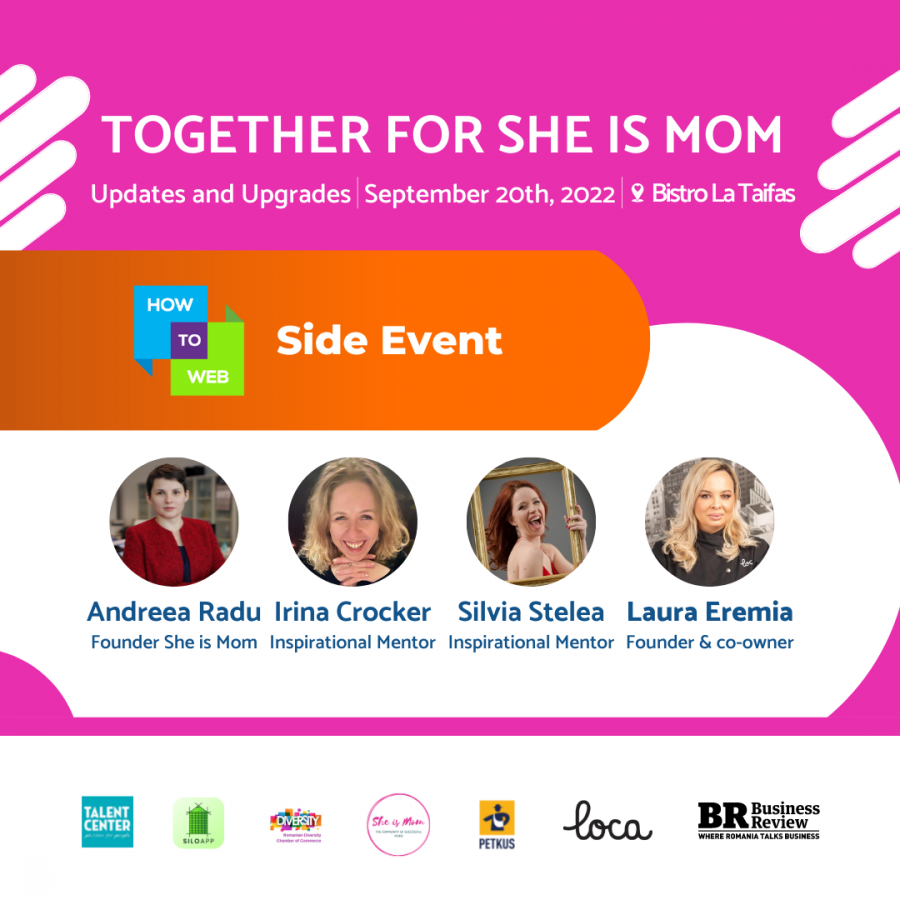 Together for She is Mom
Updates & Upgrades 2022
Bistro La Taifas, strada Mihail Moxa 12, București
She is Mom invites you to what is to come, an autumn full of wonderful events.
We start on September 20 with a fun party with prosecco, where we celebrate the launch of the new platform. After three years since the birth of She is mom, we are proud of an automated educational platform where you can create an account as a mentor, mother, benefit, or company in just a few
minutes.
When: Tuesday, 20.09.2022
Register here: https://www.sheismomclub.com/together-for-she-is-mom
Program:
Welcome & Network drink
– 18.00 – 18.30 –
She is Mom Updates & Upgrades
– 18.30 – 18.40 –
Q&A
– 18.40 – 18.50 –
Special guests! Irina Crocker & Silvia Stelea – A story to success
– 18.50 – 19.05 –
Q&A
– 19.05 – 19.10 –
Special guest! Laura Eremia – Amazing mom of 3 kids and a fantastic entrepreneurship story
– 19.10 – 19.25 –
Q&A
– 19.25 – 19.30 –
Networking
– 19.30 – 21.00 –
Location: Bistro La Taifas, 12, Mihail Moxa Street, Bucharest
*No parking space!
This event is dedicated to members of the She is Mom community and those who want to join our mission to support mothers and women in their professional and personal careers!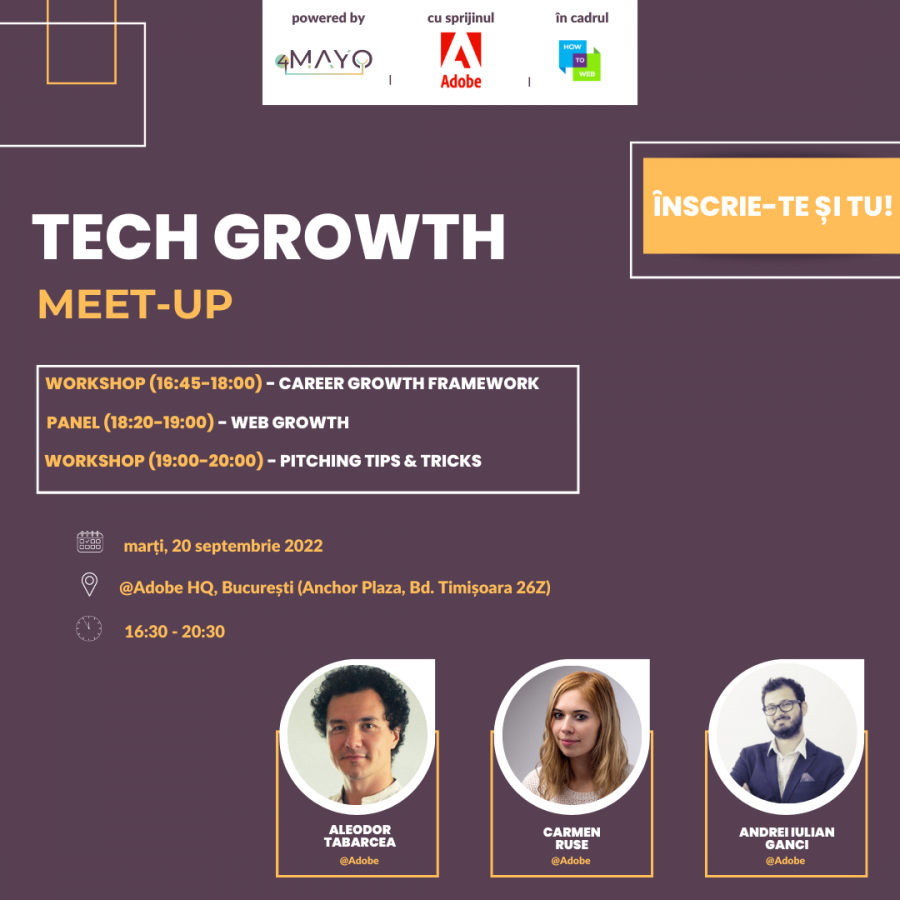 Tech Growth Meet-up
Where education & networking intertwine
A new 4MAYO x Adobe event in the house!
✔️ What's it all about?
If career growth, pitching & web trends are on your personal development list, make sure you don't miss our event! Get ready for 3 relevant speakers from Romania's IT industry, insightful discussions & unlimited inspiration in order to step up your career game.
⏰ When & Where?
September 20th, between 16:30 and 20:30
Adobe headquarters: Anchor Plaza, Bd. Timișoara 26Z, Bucharest 061331
? Who are the speakers?
Aleodor Tabarcea – Engineer Manager @Adobe
Carmen Ruse – Senior Design Manager @Adobe
Andrei Iulian Ganci – Principal Product Manager @Adobe
? Agenda:
16:30 – Greetings and check-in
16:45 – Career growth Framework – Aleodor Tabarcea
18:00 – Coffee and networking
18:20 – Web Growth Panel – Aleodor Tabarcea (Engineering Manager) & Andrei Ganci (Principal Product Manager) & Carmen Ruse (Senior Design Manager)
19:00 – Pitching tips & tricks + Demo – Aleodor Tabarcea
19:30 – Try your pitch
20:00 – Pizza & Networking
Education, pizza, coffee & networking are all on us, you just have to bring the good vibe! See you there ✔️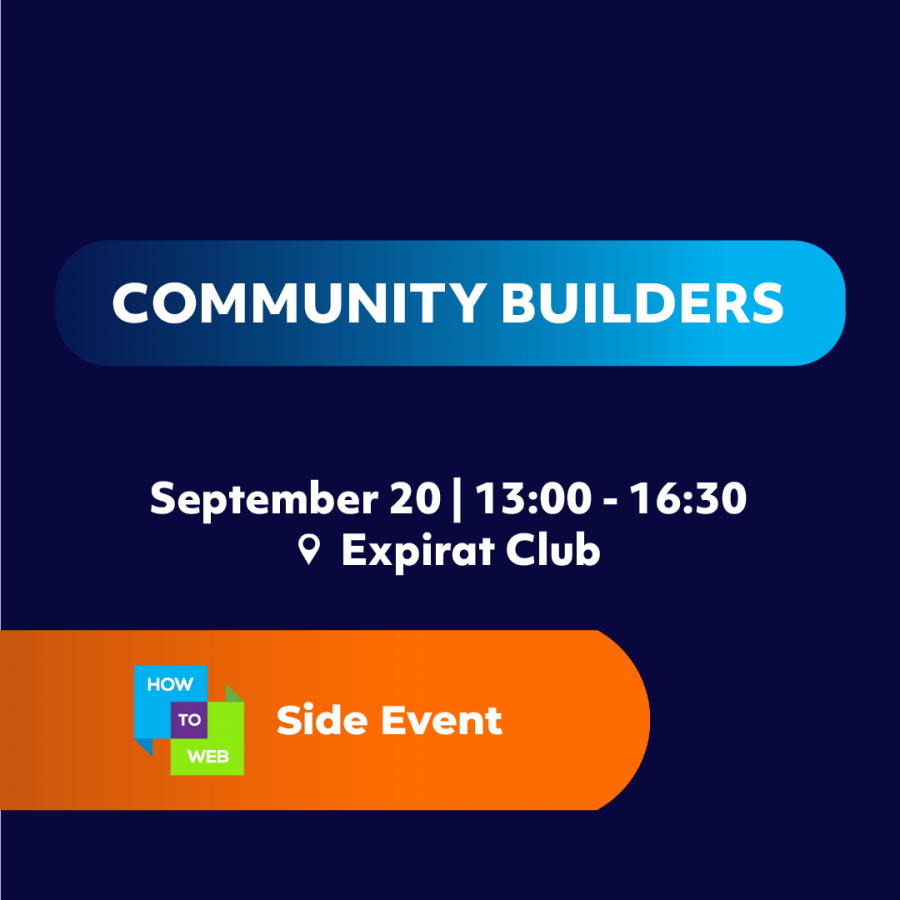 Community Builders
An event where we gather to network and share best practices that make communities to thrive.
With How to Web Conference 2022 knocking at everyone's door, we'd love to set a proper stage for you – the ones pushing the region's talent to thrive – builders of communities. Previous editions have included talks moderated by grass-root journalists from across the region, that geared insightful conversations among the guest speakers from support oganizations, programs and communities such as: Untold Stories Budapest, Orange Fab, Rubik Hub, InnovX-BCR and many more.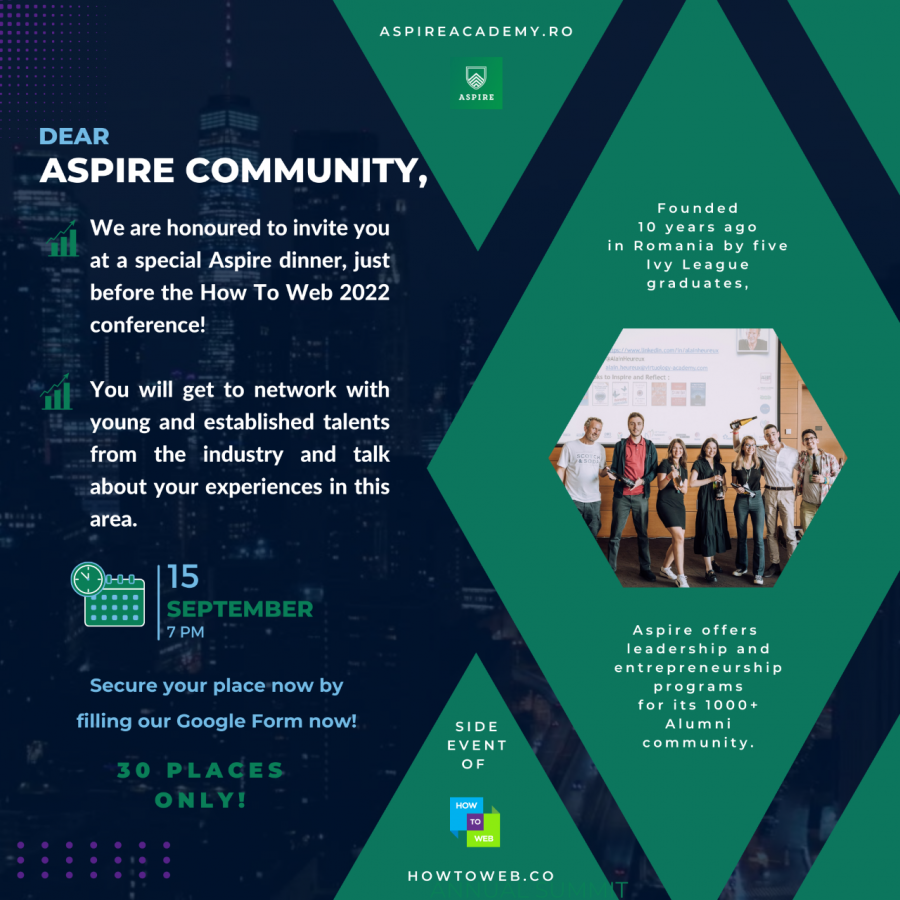 Aspire Embassies Bucharest
Aspire Dinner
As the annual How to Web conference is approaching, we are happy to organize a side event in its anticipation – we will meet for dinner on Thursday, September 15th, at 7:00 p.m. Networking, interesting discussions and 30 awesome Alumni from our 1000+ community will make up the ingredients of an amazing evening together, discussing start-ups, growth and the tech sector.