Romanian Venture Report 2020
2017 TO 2020 – ARE WE PROGRESSING?
While 2020 was a bit of an awful year, it did not create a funding crisis for Romanian startups. However, the number of investments has increased and for once it wasn't clear what is the status of the Romanian startup investment landscape.
This analysis started by putting together some numbers for 2020, but when that was done there was no clear trend, so I extended the analysis to 2019, and then I got carried away and ended up filtering and tagging all venture transactions announcements I could find starting with 2017. The result is a comprehensive analysis of the venture investments market in Romania in the last years.
Notably, this analysis does not include the UiPath investment rounds. Since 2017, UiPath has raised investments of over $1b, more than 12x the total value raised by all the other local startups.
Big thanks to Bogdan Ceobanu, whose public list of transaction announcements was the basis of this report, EY Romania for their Ecosystem reports published in 2019 and 2020, and also to Alexandru Agatinei, Mircea Vadan, Adriana Spulber, Andrei Firou, Vlad Ionescu, Dragos Nicolaescu, Monica Obogeanu, Dan Mihaescu, Cosmin Ochisor, Malin Stefanescu, Dan Calugareanu and Mihai Guran for their questions and feedback.
I've started working on this report with a simple question in mind: are we progressing? That's why, apart from the key numbers, we've added qualitative information to better understand what has happened in the last years.
The rules for filtering and enriching the date are detailed at the end of the report, along with a link to the full transaction list, and let me know if you find anything that should be updated.
I hope you enjoy reading the report.
5 EXCEPTIONAL FINDINGS
2020 WAS A BUSY YEAR
In 2020, I've tracked 59 venture transactions, with a total investment volume of €30.4m.  
Compared to 2019, that's a 6% growth in investment volume, but a 51% increase in transactions.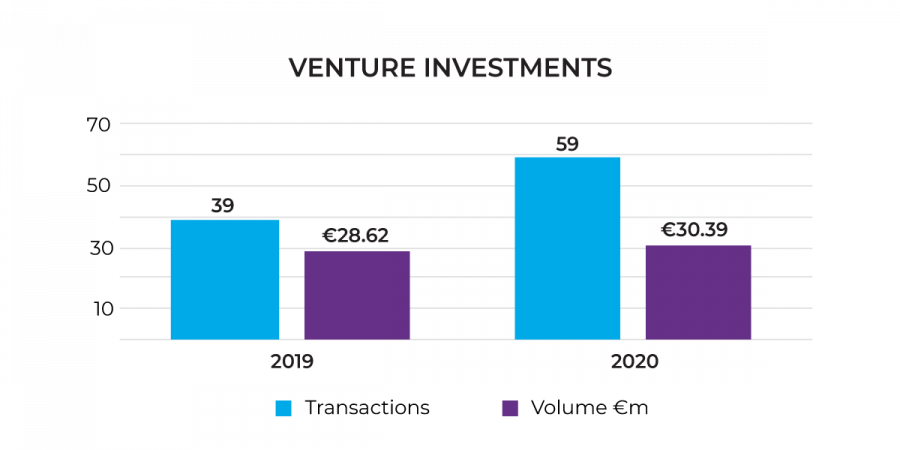 While 2020 was quite unpredictable, the venture investment pace did not slow down. After a short hiatus in March / April, as it was clear the pandemic will be more of a digital acceleration force, the venture funds and angel investors kept providing capital to the startups.
As a general trend, both the investment volume and number of transactions have been significantly growing since 2017, a sign of not only better startups, but more capital available on the local market.
In particular, 2019 has had a 90% bigger investment volume than 2018 mostly due to the FintechOS financing rounds, who raised a total of € 13.7m, 48% of the volume in 2019.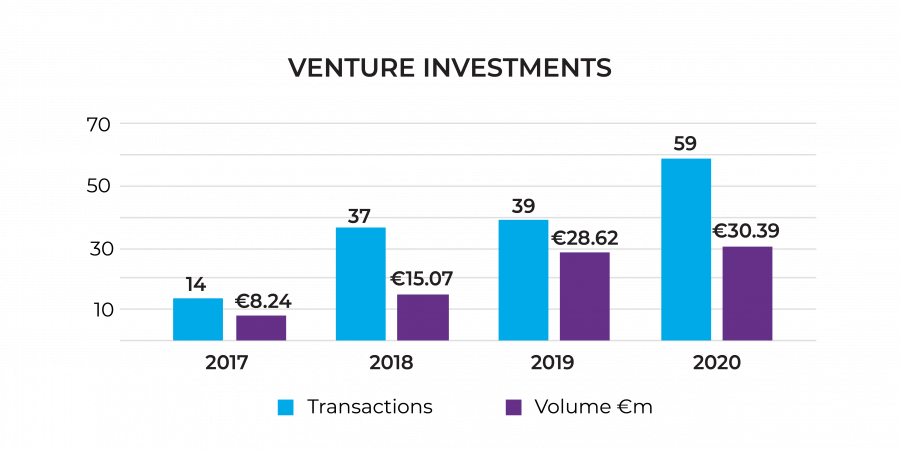 MANY FRESH FACES
One thing 2020 had was a lot of new startups raising money for the first time – a total of 39 in 2020, from 18 in 2019, a solid 115% increase. 
The volume of investments in new startups also increased – from €5.65m to €13.92m, almost a 150% growth year-on-year.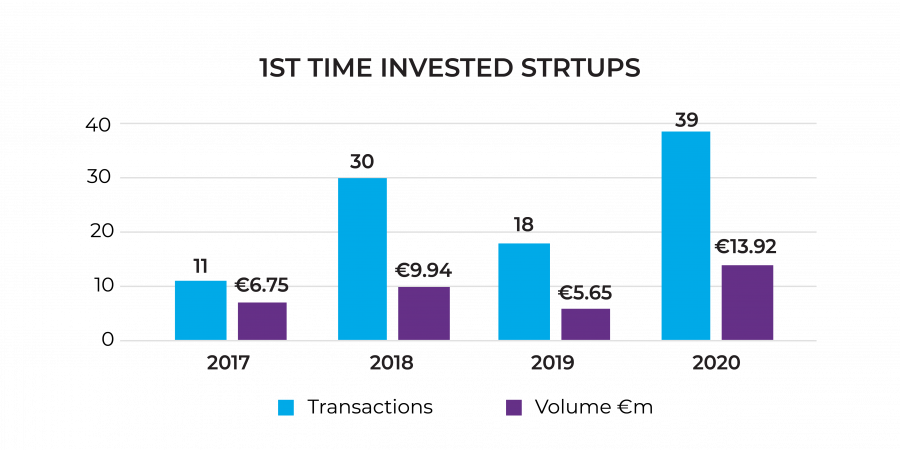 The average cheque for the 1st investment was €357k, slightly increasing the €314k value from 2019. 
Looking back at the historical numbers, 2017 stands out for a higher average cheque mostly because of the lack of seed investors at that time – both seed-stage funds and active angel groups began to do investments the following year.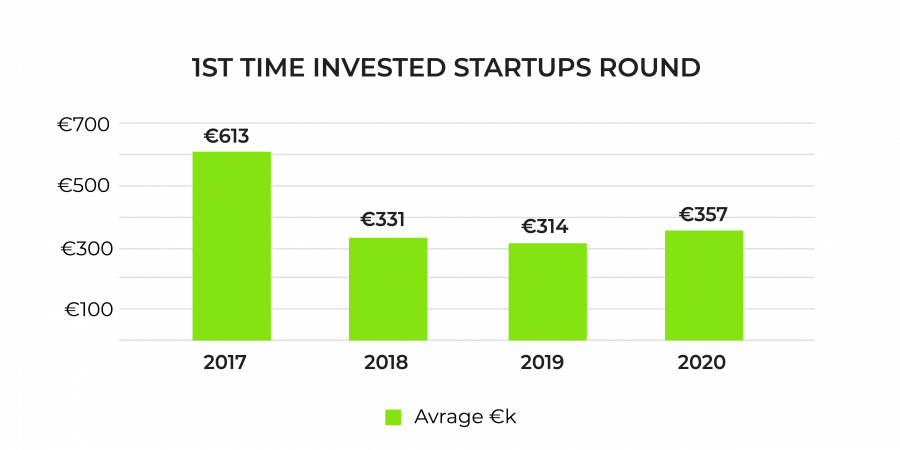 In many ways, it looks like a new generation of startups has been financed, and we'll start to know the outcome of this year's investments in 2-3 years from now. 
IF YOU BUILD IT, SOMEBODY WILL INVEST
In 2020, the vast majority of the capital has been invested in seed rounds – a total of €21.87m out of the €30.4m in total investments last year, or 72%.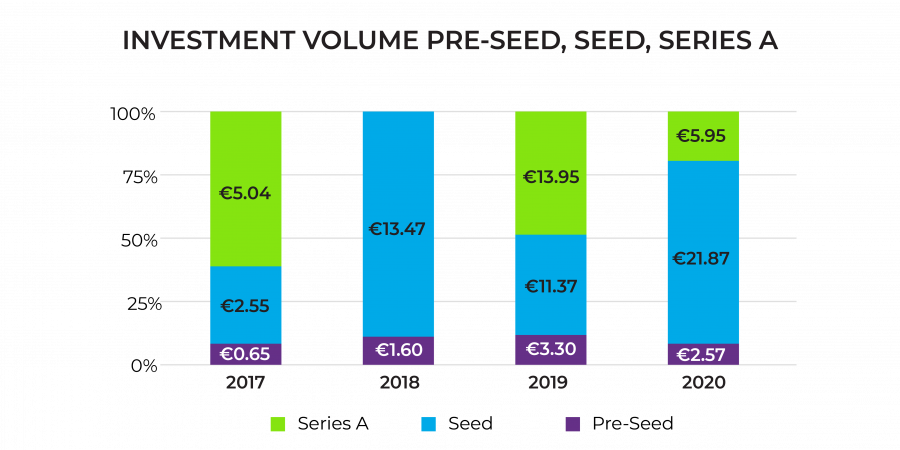 A startup raising a seed round generally has already built a working version 1, and probably they've got some usage from users or clients (or pilot projects), 
The money raised in the seed round will be used to finalise their product (aka reach product/market fit) and figure out the most useful go-to-market strategy in order to position themselves well for a Series A round. 
While the total volume and the number of investments have grown, much of the investment activity was geared towards startups which have already built something significant (seed rounds) rather than startups which were just starting up (pre-seed rounds).
2 MORE OF "THIS COULD BE BIG" STARTUPS
Two of the companies raising money this year have moved into the "this could be big" bucket, which at the beginning of 2020 included only FintechOS.
In January, TypingDNA announced a €6.2m Series A round, led by Gradient Ventures, Google's AI-focused fund. It has been the biggest investment round of the year for Romanian startups.
In December, Deepstash announced a €3m seed round, a significant size for the European investment market. The new round was led by Connect Ventures, one of Europe's best seed funds (Citymapper, TrueLayer etc.). 
A notable mention goes to Soleadify, which raised a €1.35m seed round, the first institutional investment in the company. 
Together, TypingDNA, Deepstash and Soleadify's rounds bought 35% of the total capital raised and 100% of all the international capital coming in Romanian startups last year (as per our tracking).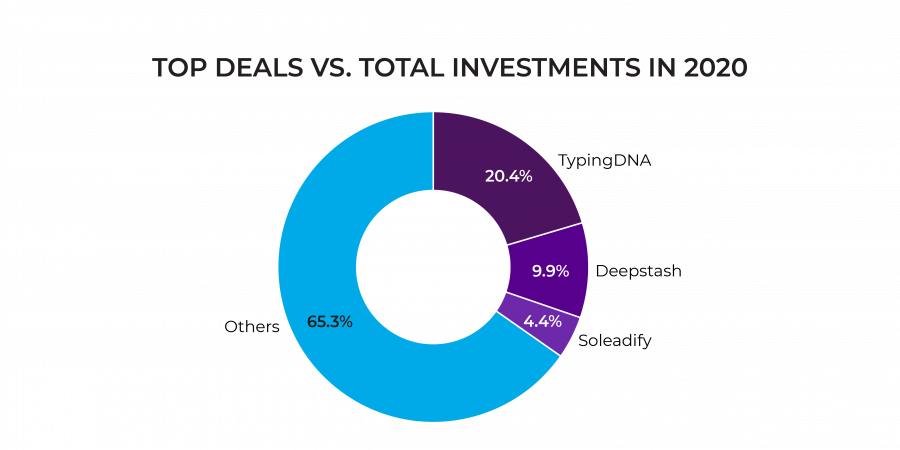 MORE ROMANIAN CAPITAL THAN EVER
If there is one silver-lining of the 2020 venture capital market, it would be the emergence of the Romanian private capital as the main source of capital for local startups. 
In 2020, Romanian capital counted for over 77% of the capital invested in Romanian startups, a 51% increase over 2019. Also, Romanian capital was included in all the 59 transactions we've tracked in 2020.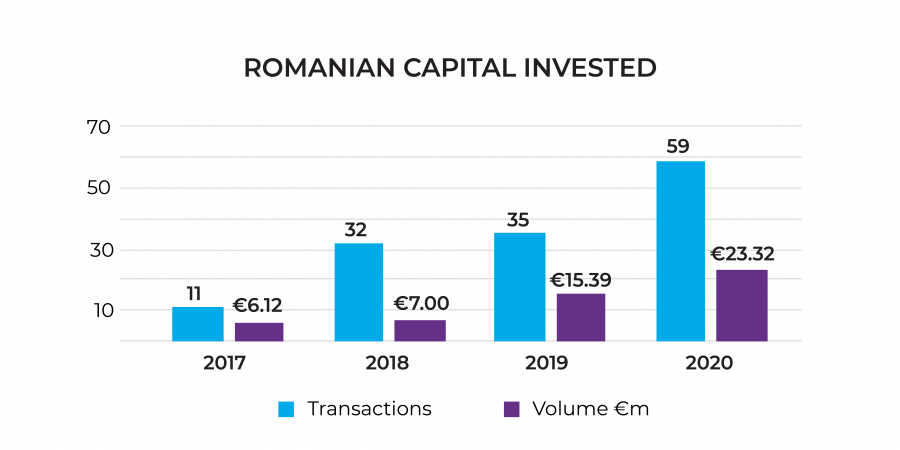 Multiple factors have contributed to this spectacular development. 
In 2019, UiPath raised a massive $568m round at a $7.5b valuation, confirming its high-growth trajectory and making the total investments in the company to cross $1b, an accomplishment in itself. For local investors, it set a clear example that you can make it (really!) big even if you're starting in Romania, and made them more willing to invest in local companies. 
A mesma experiência de sempre não é suficiente para uma empresa ser classificada como um dos melhores casinos online
casinos em linha com uma grande variedade de métodos de pagamento
. Queremos ver nova tecnologia, concursos e elementos interactivos num site de casino, o que a torna verdadeiramente uma experiência de primeira classe. A nossa equipa não se limita a testar apenas um casino online. Contactamos regularmente a nossa rede de internautas da indústria, trabalhamos em fóruns de jogadores e participamos em eventos de jogo em todo o mundo para obter a história interna sobre os melhores casinos do mundo de hoje. Graças à presença de antigos funcionários de casinos em casa, somos capazes de nos envolver com o apoio a clientes de casinos em conversação ao vivo, telefone e e-mail para testar as suas respostas. Conhecemos as perguntas difíceis a fazer que separam os melhores do mercado quando se trata de ajudar os jogadores.
And while traditional assets have provided little returns in the last years, technology companies have seen increased valuations world-wide. At the end of 2020, only one company in the top 10 most valued publicly traded companies in the world was not a technology company. 
While there was a general positive feeling towards technology and success stories which proved Romanian startups can make it big, angel groups and equity crowdfunding via Seedblink provided an easy way for Romanian capital to reach Romanian startups. 
And folks, that's how it happened.
SO, ARE WE PROGRESSING?
2020 was definitely a good year for the investment market, with all-time-highs in terms of transactions, capital invested and local capital engaged. And, as this trend will most probably continue, more money will be available for early-stage startups. 
At the same time, we have had less confirmations. With the only Series A transaction of the year being reported on January 7, 2020 (but signed probably in the end of 2019), we may well assume this year was low in growth capital. 
But as I'm writing this, Druid has just announced a $2.5m investment round and 2021 has started on a high note.
In 2020, a new wave of startups has been seeded – new, bold bets have been made, and we'll see their results starting in the next year. 
One thing is sure – better more bets than less.
Download the full report
Get the full report (no email required) to find more details about:
– breakdown of pre-seed / seed / series A rounds
– breakdown of Romanian / international capital invested
– breakdown of 1st time invested startups / follow-on investments
– average values of all of the above
Full report (PDF file)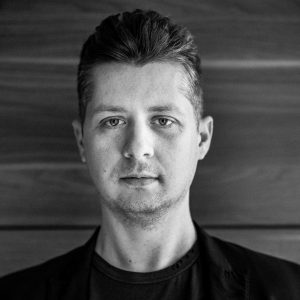 AUTHOR
Bogdan Iordache is the founder of the How to Web Conference, venture investor and startup advisor.
Previously a partner at Gecad Ventures, managing director of MVP Academy and investment manager at 3TS Capital Partners, he has supported startups such as Green Horse Games, TypingDNA, FintechOS, InnerTrends, 123ContactForm.
In the last years, Bogdan has advised startups such as Soleadify, Deepstash, Tokinomo, Underline and others on their investment strategy, and eMAG Ventures on their corporate fund formation and strategy.
ABOUT THE DATASET
There are no perfect reports and there is no perfect set of data. The report is based on public information about investment rounds, and sometimes on informed assumptions ab. Please assume a 90-95% accuracy of the numbers presented.
You can access all data and reports here: http://bit.ly/RO-VC-2020
The data was filtered and enriched based on the following set of rules:
Tracked only equity investments – no grants, loans, convertible notes, buy-outs etc. were included in the final list of transactions.
The list of transactions does not include investments in foreign startups with Romanian founders.
All equity investments with no public value have been eliminated. Their number is small and, while it affects the totals, it does not affect them significantly.
Investments with no specified investors were also not included, as many of those are actually grants, service payment etc. and not equity investments.
UiPath investments were also not included – their value is astronomical and even the smallest round raised, the $30m Series A from 2017, was actually 3.5x more than the entire local venture market.
Transactions up to €200k were tagged as pre-seed rounds, all transactions between €200k and €3m were tagged as seed rounds, and everything above €3m was tagged as a series A round.
Exceptionally, some transactions above €200k were tagged as pre-seed based on timing of the round and conversations with the founders about the objectives for the round. Also, investments smaller than €3m were tagged as Series A rounds as the companies were expanding on the regional market.
Using this classification, some companies have raised multiple pre-seed and seed rounds, if the total capital raised was not over €200k, respectively €3m.
Splitting capital between investors in a transaction was made using the simple rule that the lead investor contributes with 80% of the capital, while the co-investor with 20% of the capital. While this is in no way an exact approximation, it is definitely in the ballpark.