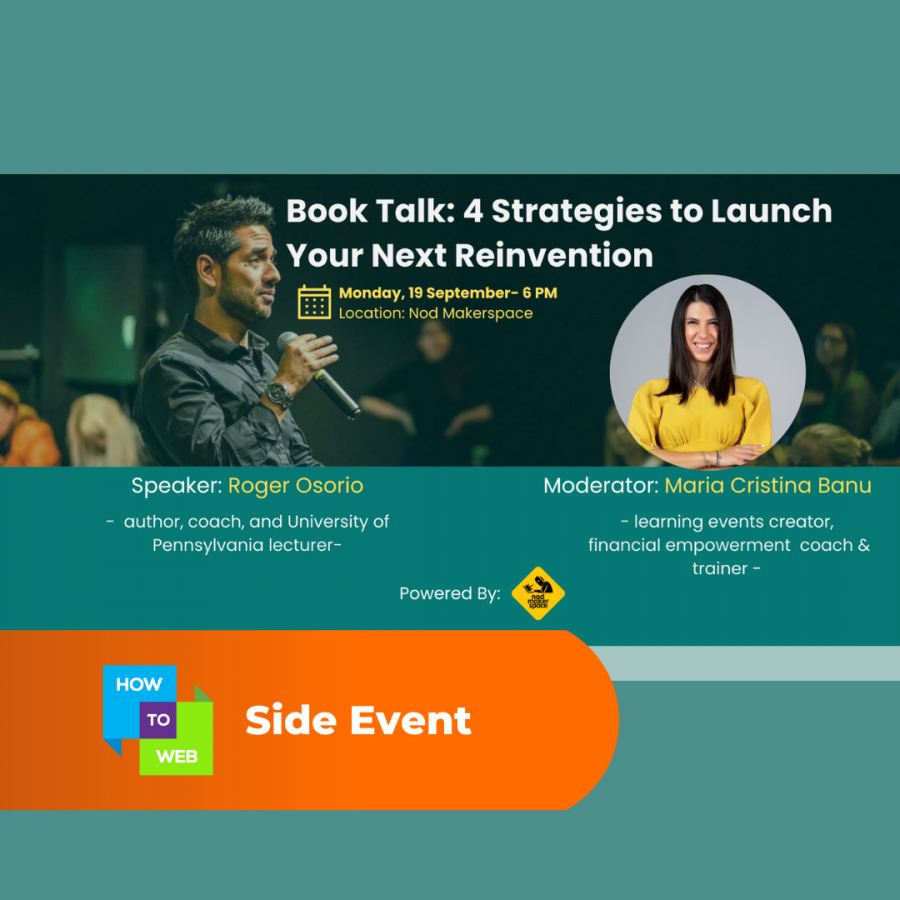 Book Talk
4 Strategies to Launch Your Next Reinvention
Nod Makerspace- Splaiul Unirii 160
A powerful speech and fireside chat, about how to reinvent the areas of your life that are no longer aligned with your values and aspirations, with US author and coach- Roger Osorio
In this private session, you will:
✅ Learn 4 practical strategies you can apply right away to successfully launch your next reinvention!
✅ Have an opportunity to ask Roger questions about your reinvention!
✅ Be among the first people on this planet who will get a glimpse of Roger's new book!
✅ Have the chance to get your signed copy of Rogers book!
More about Roger Osorio:
Roger Osorio is an author, reinvention expert, and founder of The School of Reinvention, a community-based coaching platform empowering people to launch and succeed in personal and career reinvention.
After graduating from Penn State University, Roger worked for a Fortune 500 company in marketing and sales. In 2008, after falling in love with a part-time job tutoring math, he quit his day job to reinvent his career. Since then, Roger has earned a masters degree in psychology and reinvented himself into a middle and high school math teacher, international speaker, executive coach at a major tech company, Ivy League educator, entrepreneur, and author.
When Roger isn't writing, he teaches entrepreneurship at University of Pennsylvania and Sarah Lawrence College.
More about Maria Cristina Banu:
Maria Cristina is a professional coach, trainer and creator of learning communities, programs and events.
Cristina and Roger collaborated on several successful learning programs until now, so she is thrilled to have the honor to host his first book launch in Bucharest.
The admission to this event is FREE but invite based only- in order to get your access fill-in the form in the Ticket Link – http://bitly.ws/tZK6