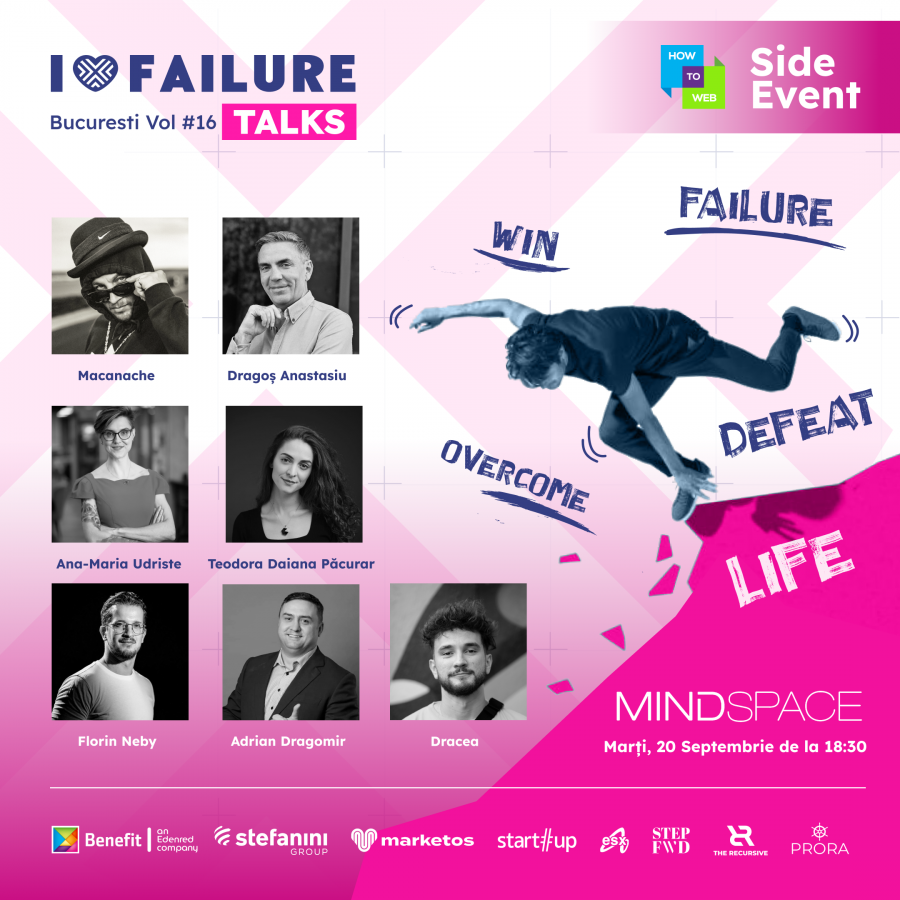 I ? Failure TALKS
Bucuresti | Vol #16
Get ready to listen to people who have impressed the nation with their performances and life stories. This time they are here to impress you with their failures.
??? ?????
? ?????? ???? ?? ??????? – be part of our community and live life to the fullest without fear of failure.
? ???? ????? ?????????? – At our events, you will meet from C level executives & investors to the biggest influencers, top athletes and artists.
? ????????? ??????? ?- listen to amazing stories from people in the arena, people who have achieved amazing performances.
? ???? & ?????? ????? ? – only the best for our community: enjoy a glass of high-quality wine from Domeniul Bogdan with delicious finger foods.
? ???? ???????? – bring your team and have an awesome experience together, creating new fun memories.
Although we are used to talking only about our achievements in front of others, we all know that behind them we have countless stories of failure that have helped us grow. With I Love Failure, we aim to bring these stories out from behind the curtain and into the spotlight so that everyone else can learn from them and realise the importance of owning their own story.
In this edition, ??? ???????? are top performers in entrepreneurship, artists with incredible stories, lawyers, and world-renowned performers in sports.
?????????? – if you listened "Ăsta sunt eu" song, then you already know who he is; if you didn't listen to it yet, then listen to it now. Top Romanian hip-hopper.
???? – ????? ??????? – the founder of Avocatoo, one of the best Romanian websites in the legal field.
??????? ???? – World and European champion at aerobic gymnast, with over 20 years of practice, until 2010, when he gave up performance sport.
??????? ????????? – Owner of Eurolines, one of the most important public transportation company in Romania, serial entrepreneur and investor, founder of Rethink Romania
???????? ?????? ??̆????? – an independent actress originally from Sovata, resident of Bucharest for 10 years, who tries to keep her candor and enthusiasm in the crazy world of the capital.
??????? ???????? – with over 20 years of experience in the online environment, he is a co-founder in several companies, the best known being the business intelligence platform Termene.ro.
All the stories will be complemented by the unmistakable vibe of ?????? ??????, our stand-up comedian who makes sure we're left smiling in the face of failure.
Too much excitement for networking? Don't worry, wine is provided by our sponsor, ???????? ??????. The organic wine producer from Dobrogea, whose story started from a dream to offer exceptional and equally all-natural wines.
We'll create the perfect atmosphere, you just have to bring your failures.
????? ??????
18.30 – welcome, drinks, tasty food, and a bit of networking
19:00 – inspiring stories of failure + Q&A
20.30 – networking, fun, drinks, some more tasty food