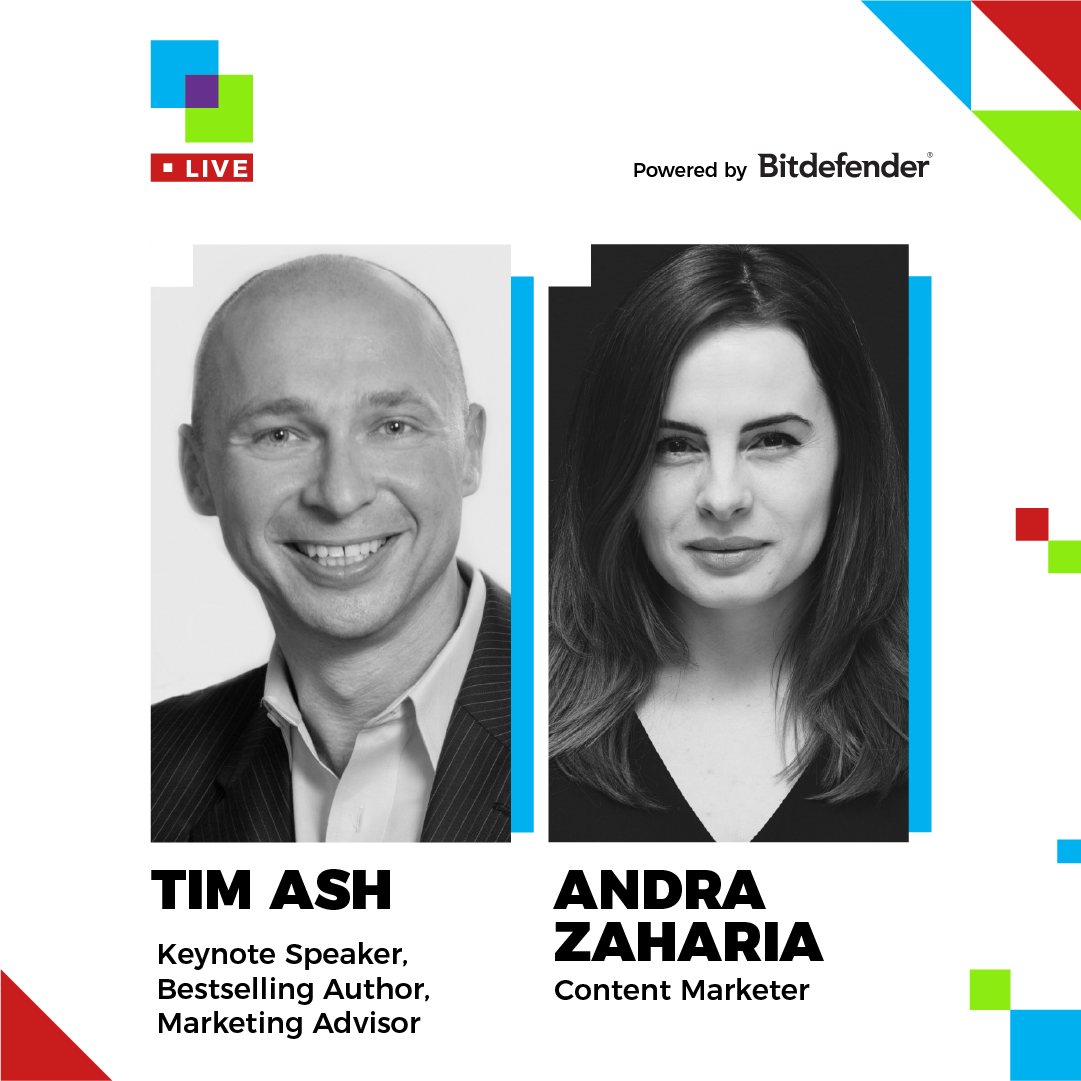 12 October, 2020
How to Web Live Episode #3 – Powerful Persuasion
Welcome to How to Web Live! The show you need to watch to find out the latest news and trends from who's who in the tech industry. Every other Thursday, log in on Crowdcast and get inspired!
This third episode titled "Powerful Persuasion" that aired on October 8, 2020, we had Tim Ash (keynote speaker, bestselling author, marketing advisor) in a conversation with Andra Zaharia (content marketer, podcaster – How do you know? Podcast).
Acknowledged authority on evolutionary psychology and digital marketing, Tim is exploring human brain to find out the answer to "why we do what we do". His book Unleash Your Primal Brain: Demystifying How We Think and Why We Act is a great read for anyone who wants to understand what truly drives customer's attention to a product.
Tim and Andra shared invaluable insights into human decision-making and behavior. Here is a sneak peek into their live discussion:
Watch the full discussion on our YouTube channel here.
Listen to the full discussion on Spotify and soon on Apple Podcasts too.
3 takeaways from Tim and Andra's live discussion:
►"The other thing that's important to understand here is our brains are very expensive to operate. Even compared to our closest cousins, you know, pygmy chimps and gorillas, they use about 8% of their resting metabolism energy to power their brain, we use about 24%. So three times as much energy. So our brain is a very expensive thing to operate. And that newest part, the cerebral cortex, is actually the most expensive, so we kind of keep it on standby most of the time. So the default for us is to do nothing, it's to just keep going in the direction we're going. So as marketers, we first have to move somebody off of their comfortable spot in order to get them to change their behavior", Tim revealed.
►"To be social means to be influenced. It means to influence and be influenced all the time of subconsciously, mostly, and very little unconsciously", Andra concludes.
►"Whatever the technology is, we're still trying to influence the human mind, and that part isn't changing. So if you want to have a great career as a marketer, figure out how persuasion works. Figure out how human beings make decisions, and then apply it to the right campaign and the right technology." – Tim on how persuasion helps you as a marketer.
Watch and Listen to the full episode to get your own takeaways!
Are you more into Reading? The Full Transcript is below!
Andra: As a persuasion and marketing expert, you've spoken at over 200 events, you've handed on respective digital agency site tutors as CEO. And you've recently launched your second book, unleash your primal brain after offering landing page optimization, which sold over 50,000 copies. So now that you've had like this incredible experience that spans over 25 years, We'll just keep it between ourselves and everyone else who's watching after working kind of on this incredible range of projects and brands and assets. Why do you think marketers should be interested in evolutionary psychology, which is what your latest book is all about?
Tim: So before I started, I like to say I've written three books. So the landing page optimization book, this is actually the second edition and the way I count books is by how many years of my life I've put in, so each book has taken two years of my life. So I remember all three of them and giving birth to them. But to answer your question, I think that, as you know, I ran my agency site tuners for over 20 years and founded it. And now it's handed off to some terrific business partners, and they're continuing it. But we created over 1.2 billion in value for clients like Cisco, Nestle, Facebook, Google, the hundreds of others. And the thing that it was a cry agency conversion rate optimisation. And the principles that we use are basically grounded in persuasion and neuro marketing. And I consider that to be the durable stuff, I'd say most of that value came from durable principles of psychology. So if you want to understand as a marketer, how to influence people, maybe you should understand why you're influencing which is the human brain. And so we tried to do stuff that worked in most situations that we could reliably count on. And I think any marketer, who's focused on the technology, and I don't know, Twitter, this and virtual reality that and I don't know, tomorrow will be hologram suppositories or implants, and we're all going to be boring, I don't know. But whatever the technology is, we're still trying to influence the human mind, and that part isn't changing. So if you want to have a great career as a marketer, figure out how persuasion works. Figure out how human beings make decisions, and then apply it to the right campaign and the right technology. So this book, this new book, unleash the primal brain isn't strictly about marketing. But if you read it for that, as with the marketing mindset, you'll certainly learn a lot. It's the foundational why behind our behavior.
Andra: I can definitely attest to that. I read a book, I absolutely loved it, I found it so helpful, so enjoyable, so packed with tons of insights and tons of things that you can experiment with, especially on yourself, because I feel like it brings that level of self awareness that we need to be great marketers. And so this is kind of very counter intuitive approach, I guess, to what mainstream marketing kind of promotes, which is a lot of trends, a lot of changes. And we're caught up in the cycle of, you know, doing and doing good and trying to keep up with things when you're actually telling us that we should stop and, and look beyond all these layers and look at what's not changed in the past 100 years or more.
Tim: Some of the stuff that's in our heads right now is hundreds of millions of years old, though, we share. So what I try to do in the book is kind of retrace the evolutionary arc and talk about what we picked up along the way and that we share with earlier forms of life. So for example, people talk about, you know, dopamine, and the fact that we're You know, we have our phones, and we're sitting there waiting for that next little instant message to come in or something like that on social media. And, you know, okay, that's a distinctly human thing, we kind of anthropomorphize things and think they're about humans. And they're not dopamine, we share with insects with fruit flies, for example, hundreds of millions of years ago, all life on Earth figured out that dopamine might be useful as a way to kind of give you incentive to reach survival goals, and it still works for us. So to think of it as human is a mistake. So I try to kind of layer in all of the early life stuff. And then at the end, what makes us uniquely and bizarrely human.
Andra: And that's extremely interesting. And I think it's extremely thought provoking especially because everything that we do, whether it's building products, or companies or teams or campaigns, it ties into these behaviors is built in mechanisms that have been keeping us as a species alive and thriving throughout so many changes in so many years. So you talk a lot about emotion, let's say versus a logic and decision making. And that's definitely a topic that I would like to kind of dig into a little bit. You know, um, so these behavioral traits, they don't really change over time, what would you say the role of emotions versus logic is in the choices that we make?
Tim: Wow, well, they start the book, the very first chapter is called the lie of rationality. So you can kind of see where this is going up. We have this philosophical tradition going back to the ancient Greeks, and earlier probably about the fact that what makes us unique is a logic and reason and the ability to delay gratification. And we have to somehow tame the wild horses of our emotions, and but what makes us qualitatively better and superior to all other life on earth is this logic. Think Descartes in the 1700s said, I think, therefore I exist. And as I put in the book, where all his philosophical grandchildren, well, in fact, logic isn't even what our modern part of the brain is for the modern part of the brain is to help us model complex social relationships. the cerebral cortex is there to say, Okay, we have a close group of 100 to 200 people. So if I were to do a really bad job on this live event with you, and that gets back to the people that How to Web who are business partners with another person I'm thinking of doing a webinar with, it's the model, all of that complexity, are placing the tribe if you will, and so it's there to spread social knowledge and culture and things like that. And actually, very few people contribute to logic or science. I personally think a lot of those people are on what's called the autistic spectrum. So instead of paying attention to social cues, they can use all of that horsepower to make scientific and artistic advances. And the rest of us basically just spread that knowledge around by socializing it. So our, our even our quote, unquote, logical modern brain is there mostly for social reasoning. In fact, if you're not doing two plus two equals four, it instantly within a fraction of a second goes back to modeling your social world, automatically. And subconsciously, you do that while you're awake, you do that by simulating things in your sleep. So we're very hyper social creatures. So as far as emotion goes, and decision making, which of course we as marketers all care about, you literally can't make a decision without emotion. There have been some people that have certain specific kinds of brain damage, where those logical centers and reasoning centers are disconnected from emotion, they can't decide. So our reasoning mind gives us options. And our emotional mind immediately narrows that down to a set of actionable choices that we have. Without it, we'd be overwhelmed with options.
Andra: That is absolutely fascinating. And I think that this is something so counterintuitive to what we're usually no to, let's say the the, the kind of the mainstream things that we're really used to. And I'd like to kind of go back a bit because you mentioned it's the social aspect, obviously, is something that has felt has helped humans everywhere thrive. It's helped us build a society that we live in, it helps us do everything you have this conversation that we're having right now. But to be social means to be influenced. It means to influence and be influenced all the time of subconsciously, mostly, and very little unconsciously. And I wanted to kind of ask you, how could, let's say members of our audience, who are either marketers or company builders, startup founders, and so on, use these mechanisms for good, how can they help nudge people towards that the right decisions, what are some cues that they can use?
Tim: Okay, I'm gonna key in on the word nudge, because that's very popular, as you know, with the behavioral economics folks, Richard Thaler won a Nobel Prize for this and his books called Nudge. I think Karl Susskind is the coauthor. And I mentioned it is one of my recommended reading books. But the my problem is, with a couple of assumptions, ones that we that we should nudge and and the other is that it can be done ethically, those are not necessarily true. You have to be really careful as a marketer about what you're trying to do. If the goal is to reduce friction in your web experiences. If it's to align messaging better with the values of the people that you're trying to influence and your cultural tribe. That's all good if you want to create clarity by making a better wording on a button, um, for that kind of nudging. But there's a lot of nudging, that's really not that healthy. And it's borderline. So for example, if you nudge me towards the most profitable option on your website, is that really helping me? Or is it helping you the company, so you get into some ethical gray areas, and then there's ethical black areas, a lot of companies are operating with AI and algorithms and to nudge people in essentially harmful directions. There's a lot going on with the ethics of technology, social media i right now. And I think that we as marketers need to not just say, well, we're doing something noble, we're not this technology. And these insights about our subconscious can be used to manipulate us. And they're being used to suck money out of our wallets to divide us politically, and possibly lead to global extinction event very quickly. Because people are making money off of manipulating us. So there's nothing inherently noble about influencing the subconscious.
Andra: So how can we keep ourselves accountable to being responsible to understanding these things about ourselves and others, and not going into those gray areas not using those that those dark patterns that we've some of us and began to see simply because we work with them, and we're acquainted to them, but most people just don't notice.
Tim: Yeah. So I think that as marketers, my point is, we should be thinking about this in the back of our minds all the time. And sometimes saying to management, no, we're not, we can't do that. Because that's manipulative. I don't think chasing money is the ultimate goal, or what serves us as human beings or marketing as a profession. We're all human beings. And we're all in this very fragile boat, we call the planet Earth together. So that's something like a quick philosophy. But there is a lot that we can do to influence people ethically. And there's some general strategies we as marketers, I think, often don't think of using because we're ignorant of how the subconscious mind really works.
Andra: So how has helped you, you know, you've gathered all this body of knowledge, and you've put it into this amazing book? How has it changed so gradually, as years gone by, as you've read so many books gone through so much research that so much research of your own? How has it changed the way that you work? And obviously, we've heard that you've had incredible results, but how has it changed your approach to your work as a marketer, and as a builder, generally, of companies and teams?
Tim: Well, I'd say it's actually helped me on three different levels. I mean, there's this book is really not applied to marketing. As I mentioned, it's kind of a basic operating system being human one on one, if you will. And so it applies to business, leadership, marketing, persuasion, sales, all of that, but also relationships, community building tribes, culture, things like that intimate relationships, gender differences. And finally, to personal development, if you understand how you work, what your habits are, where your compulsions and impulses come from, you better have a clearer picture of yourself and how to live in this world. Part of my reason for writing the book was actually to kind of level the playing field from these big nameless corporations and governments that are taking advantage of us. Right now, they have the behavioral scientists and the statisticians in the AI algorithms. And we're just kind of bringing the proverbial knife to a gunfight. And I just want to even up the odds for us as individuals to be able to say, Hey, this is how my mind really works. And this is how I can kind of counteract maybe some of this stuff or take myself into account better. But from a marketing standpoint, I've learned to use I guess you'd say ethical persuasion strategies and I can give you a couple as marketers. For example, we commonly see that we only want us to do positive messaging. If you use our product or service, you're going to have whiter teeth and be better looking and get a great mate and make a lot of money and be happy. So we make those kind of positive promises, when in fact, our brain doesn't keep happy chemicals in it very long. Those are just to give us little nudges, as you put it towards survival goals, most of the time, it's actually scanning for danger. And it's much more attuned to loss, and to fear and things like that than it is the upside. And a lot of marketers say, well, that's off brand for us. We don't say negative things. I would say that's really, really stupid. You're fighting with both hands tied behind your back, you should talk about the negative, you should say, oh, what's your life? Like right now? It's really, really awful. Oh, by the way, it's a lot worse than you think. Because you didn't think through all the implications of how bad it is. And only then do you present your solution because as I put it, it's the same in working out –  no pain, no gain – if I can't create a pain in you, as a marketer to move you off of your comfortable spot, I'm never going to create a value proposition that makes you pay a lot of money for something. So start with the pain. Don't be nice, don't tell them how wonderful life is with your solution. Start by saying your life sucks right now. So you need to do something about it to change it. And then it's worth a lot more to them to change it.
Andra: That is to me is very interesting, because we talk a lot. So there's generally let's say the mainstream conversations includes talks about talking about fear and the fear of missing out fear, uncertainty and doubt used in so many contexts. And it's it's been used so extensively, that we feel that people have become slightly immune to it, or they're just so kind of oversaturated with this type of messaging. So how do you send out if you're kind of trying to play into this issue parts to get people's attention to get them to react to them out of their comfort zone? Well, and then move them toward some positive outcome?
Tim: Well, the other thing that's important to understand here is our brains are very expensive to operate. Even compared to our closest cousins, you know, pygmy chimps and gorillas, they use about 8% of their resting metabolism energy to power their brain, we use about 24%. So three times as much energy. So our brain is a very expensive thing to operate. And that newest part, the cerebral cortex, is actually the most expensive, so we kind of keep it on standby most of the time. So the default for us is to do nothing, it's to just keep going in the direction we're going. So as marketers, we first have to move somebody off of their comfortable spot in order to get them to change their behavior. And like I said, there's two ways to do that you can motivate me by fear and loss and or gain, and fear and loss is about twice as effective. So to say that we don't use that, like I said, is not gonna be very effective. If you focus on the positive. For example, let's say, Do you like ice cream? Yes, great. Okay, hey, I'm gonna have some ice cream. Here it is. But first, as you reach forward, let me hit your hand with a hammer. How does that sound to you? Now I know, which is motivate you, unless you really love your ice cream, you're not going to wait for that hammer. So we know what motivates people. And so take advantage of that ethical, again, advantage, but focus on what their life is like right now and how crappy it is, without your product or service. Start there every time.
Andra: Well, the the the, the The other thing that's important to understand here is our brains are very expensive to operate. Even compared to our closest cousins, you know, pygmy chimps and gorillas, they use about 8% of their resting metabolism energy to power their brain, we use about 24%. So three times as much energy. So our brain is a very expensive thing to operate. And that newest part, the cerebral cortex, is actually the most expensive, so we kind of keep it on standby most of the time. So the default for us is to do nothing, it's to just keep going in the direction we're going. So as marketers, we first have to move somebody off of their comfortable spot in order to get them to change their behavior. And like I said, there's two ways to do that you can motivate me by fear and loss and or gain, and fear and loss is about twice as effective. So to say that we don't use that, like I said, is not gonna be very effective. If you focus on the positive. For example, let's say, Do you like ice cream? Yes, great. Okay, hey, I'm gonna have some ice cream. Here it is. But first, as you reach forward, let me hit your hand with a hammer. How does that sound to you? Now I know, which is motivate you, unless you really love your ice cream, you're not going to wait for that hammer. So we know what motivates people. And so take advantage of that ethical, again, advantage, but focus on what their life is like right now and how crappy it is, without your product or service. Start there every time.
Tim: Yes. And then you bring up a great point. So this goes into a whole nother area of my book about culture and tribalism. be super clear about who your audiences are. Another mistake marketers make all the time is to think that, you know, our product works for everyone. We have a billion possible customers on this planet. No, you don't. You have to deeply understand the cultural tribe and the values of the people you're trying to reach. And I say start narrow. Geoffrey Moore wrote a great book many years ago called Crossing the Chasm, and how to go up that bell curve and achieve mainstream dominance. And he talks about like knocking down the bowling pins, pick a few little entry points, very specific sectors or segments and go after them with a deep understanding of their problems. You might even have to customize your solution for particular verticals a little bit, but he was saying, again, the focus is on deeply understanding the values of your tribe. And that's where the messaging starts. So figure out what what your segments are, figure out what they value, and then get your messaging right for the offer right for them.
Andra: And what I find particularly useful about your work is specifically in this context is that understanding all these concepts and working with them will help you have better conversations with customers. Because when you want to focus that deeply on your customer and get to know them, you have to do customer development interviews. But those are only as valuable as the questions that you ask as, let's say, your ability to observe and to watch them use your product.
Tim: Yeah, as marketers, I would say we, the biggest thing that I tried to do with my team, and it took a couple of years for each employee to finally get this is to invert it. Right now we're going from inside out in most companies, where we're the company, here's our products here, we're going to tell you about them. So we're going from inside our company out to the outside world. And the effective marketers that I've seen every time are doing outside in, they're saying there's somebody out there, we're trying to reach them, they might have misconceptions or problems, and they don't even know how to solve their problems or their make their pain go away. And we have to be useful to them. So that means customer journeys, content marketing, even if we can't make money off of them right now at the bottom of the funnel, how do we guide them towards a solution. And so it's really, really important that we have that outside in mentality. And always, always, always focus on the customers and not on your company. So customer service reps know a lot about this sales, people who are handling objections, go out on your social mediums, and you think your brand's wonderful, it's not everybody's saying your brand has shed, and they'll tell you why they think that on Twitter. So you should always get as close to the front lines, the customer facing stuff as you can to get an accurate picture of both your audience and how your brand is perceived.
Andra: Absolutely. And before we kind of move on through through the conversation, I wanted to just remind everyone who's watching that we're looking forward to their questions. And that we are we're obviously super open to them. So drop them into chat. And we'll start soon picking them up one by one and going through them. So before we we go on to two questions from everyone who's watching everything that we talked about apply. So we talked about it in the marketing context, but it also applies to product building, to company building to culture building inside your startup inside your company, no matter what size it is. And that's the beauty of everything that you researched so well and kind of encapsulated and summarized, and you know, captured all this value that you delivered in a way that's very fun to very enjoyable, and obviously very educational. And all these concepts. So I wanted to ask you, from all the things as body of work, what are the triggers, I guess, what are the buttons that we can push ethically, to get people to to pay attention and to break out of the noise in a way that's meaningful? And that's helpful. And for example, I I do remember that one thing that you talked about in the book is, is that we're most likely to pay attention to something when it causes a strong emotions in one way or the other. What are some other things should we be? Should we pay attention more to clarity should be trying to oversimplify things? How do we deal with kind of all these things?
Tim: Yeah, I think one of the things that we pay attention to a lot because we're such highly social creatures is social proof, Robert chill Dini, who was kind enough to blurb My book is a well, one of my professional crushes, I guess you could say he's done a lot of research and persuasion on the sales side. And again, because we're so highly social, we like to actually see what others are doing. We don't even trust our own direct experience. Let's say you're in front of two restaurants before the pandemic, and one has no line and the other one has a long line out the door, you're going to get in the line and wait to get into one restaurant, and you're going to think the other one's bad because no one's going there. So we look for social proof, especially when we're uncertain. This is really important. In times of uncertainty, we will look to our cultural tribe or group for cues of how to behave, we'll even override our direct experience and focus and fall back on that cultural knowledge and the tribal knowledge. So anything you can do to, you know, as seen in the media, or we're good corporate citizens, here's some seal of approval or lots and lots of people have used this and had a good outcome. Here's a bunch of testimonials. using social proof like that is very, very powerful, and I think is a pretty much a universal tactic. Now it's important to make sure that that social proof is in a form that your tribe cares about. So if I say, you know, a watch this great video on on Facebook, my kids are like, Dad, you were born in the 80s or something, you know, where do you live? We're watching Tick tock, you know. So, you know, you have to make sure it's in the right container to reach your audience.
Andra: It absolutely is. And I had kind of a follow up question to that, given that we're so prone to falling social cues when we're an uncertain environment, and we need kind of guidance. Do you think that can stifle innovation? Because there are many companies who want to remember a cartoon from a Tim fish boring cartoonist? Who was like, Yes, let's innovate. But hasn't anyone done it before? And what results did they get? Do you think that this is potentially something that might drive innovation down in the coming years, as we're obviously trying to survive, adapt, and so on? I was kind of trying to understand this orientation towards looking at others for social cues, will make us you know, less innovative, less brave to try new things and kind of push the boundaries a little bit?
Tim: Well, I think there's, you're describing a difference between making new products and what we buy. So Steve Jobs famously said about Apple, you know, if I listened to what people said they wanted, then we would have never invented any of the things we invented. And I think that's true, he probably had some key insights about people's behavior that allowed them to design new products. But that's, that's a separate domain. But if you're talking about buying products, nobody wants to be the guinea pig, nobody wants to fail or have a problem. So we want to be safe. And that motivation for safety is very powerful. So reducing risk by seeing what others have done is always works. It's especially important in the business to business context, when large amounts of money and potentially devastating consequences for our company and our career are at stake. So we have a personal level of risk, and then an organizational level of risk. And we want to minimize that through requests for proposals or competitive bid processes or analyst reviews of software are in the industry. So we're always looking to minimize risk and social proofs, a very powerful way to do that.
Andra: And going back to the topic of influence, we have a question from my B, who asks, How do you influence people ethically to to buy our product? So we're getting a bit backed up to to that topic? Because he says, I think this is sort of a contradiction influence in ethics? There are so many it's such a big spectrum, isn't it?
Tim: It is and I'm afraid that I kind of agree with the premise of the question as I hear it. In other words, I know that it's popular right now to talk about corporate culture and changing the world and life trends and dental meaning. Well, really, you know, as marketers, let's not kid ourselves, we're not curing cancer or saving the planet, what we are is taking money that somebody has in their wallet, maybe would have given to one of our competitors and putting it in our company's bank account more efficiently. So there's nothing inherently ethical about that. And all I'm saying is consciously think about where that line is what tactics you're willing to use. I'll give you an example. There was a highly regulated financial services industry. And they were doing lead generation. So we created a landing page. And in the US, there's so some laws about that. And they said, you have to put the disclaimer above the call to action button. And we did, we put it in the header of the page where nobody was going to look for it. So technically, it was above the button. It wasn't below the button. So that was crossing a line. Our client wanted us to do that. And we gave them the idea. And they said, Yeah, we'll make more money that way. But was it ethical? No, not really. So think about how much is it? How important is it for you to separate people from their money in this context, whatever it is you're doing.
Andra: And I believe, like you mentioned that you can, let's say, offset some of this. Let's say everything that goes into this influence, you can offset some of that by doing good customer service by being there by really listening to the people by talking to them by actually trying to be a lot more helpful than than you already are. We're we have an amazing surplus of products and some verticals, but a dire need for innovation and others like medicine like Well, generally health care, the environment and so on and so on. force, there are so many areas that I feel could benefit from, from doing, you know, driving that that level of innovation of product building of solution building. Because otherwise, we're going to start seeing becoming vulnerable in some points. And we can clearly see see all of that today. We have another interesting question from from Adrianna, she asked if you watch the movie limitless, because you mentioned earlier that monkeys use a percent of their brain power to kind of process complex decisions while we use 24% of it, which is a lot hence, why don't feel tired and burnt out. So how does kind of increasing this brain power changes in our decision making? Ultimately change society?
Tim: Limitless is a is a nice kind of science fiction movie where this person gradually become begins to use more and more their brain until they're using 100% of their brain capacity. There's no such thing, okay, our brains designed to be redundant, and you never use all of it. You're using different parts of it to do different tasks, depending on the context. So there's my main point with this book, is this a snapshot in time right now, we evolved, we evolved over hundreds of millions of years. And as human beings for 200,000 years. And effectively, we're frozen in time. And before the global climate extinction event, nothing is going to change on an evolutionary level. So we have to use minds that developed for hunter gatherer small groups, and use them in these incredibly complicated civilizations with billions of people on the planet. So I don't know that there's, it's about more efficient use of our brains. It's about understanding ourselves better. So we don't screw up the whole world and destroy ourselves. So that's the my motivation for providing the insights, I would say.
Andra: I have a follow up question from Paul, that plays right into that. So he asks What do you do when you make a bad decision? How do you recover from that? Because you mentioned that it's obviously in our into human nature to err is human. We all know that.
Tim: I would say there isn't. There are no such things as bad decisions. Literally, you know, we're talking about dopamine earlier. Dopamine has two functions. The first is to motivate you towards following a quick some goal and taking a little step closer to the goal. In other words, it's metering out energy, is it that goal worth pursuing? And if the answer continues to be Yes, they'll give you these little squirts of motivation. But the other thing that happens is, if you don't get the result you expected, there's literally this Oh, shit circuit in your brain and everything goes, Oh, that didn't work out the way I expected. That meant my model of the world was wrong. And so dopamine also helps rewire you to have a more accurate model of the world after you don't get what you expect. And then it gets more accurate next time. So really, the way to think about it is if you're not making mistakes, you're not learning and everybody, anyone who's in such a safe zone that they don't make mistakes, whether it's in their personal life or their their professional career, is really not doing themselves a failure, a favor. They're minimizing their opportunities for learning and improving their model of reality.
Andra: We have time for at least two more questions. So we'll take a question from the audience. So now is the time before we move on into, let's say, the kind of the wrap up of this conversation. And we have a question from pudding thing. Do you have any recommendations or methodology about selecting a market segment?
Tim: If you were to design any product you wanted, I would look for characteristics of it, of loyalty. So this goes back to culture and tribalism. If you have, the point isn't which market segment to use, it's the how motivated and loyal people are, if they passionately care about something. So earlier, we were talking about the fact that I'm a cat person, there are other people that are dog people and have been their whole lives, you know, you're not going to change my mind about being a cat person. And I'm very loyal as a cat person. And, and dog, people are even more loyal, I would say that being dog people because they have a higher commitment, like picking up their dogs poopoo every day, I don't have to do that with my cats, they just go outside. So the motivation and the loyalty of your tribe is that what you should be trying to kind of focus on and understand again, as much as possible what those people care about. So there's no such thing as an objectively good market segment. Obviously, if you're trying to market a new product, if it's manufacturing or a physical product, without a brand, it's going to get knocked off, probably made another country, most likely China, and so on, it's very easy to replicate physical things. So the brand, the strength of a brand comes from the loyalty of your tribe. So the narrower you focus, and the better you understand your tribe, the more effective you're going to be, for example, Rei, the outdoor clothing brand, or Patagonia or something like that. I know the politics of those people, they care about saving the planet they care about not polluting, they care about green life, they might be into other healthy self care activities like yoga or something else, just by knowing they're a loyalist to the Patagonia brand. I can I know a lot about the cultural tribe. And so again, the key is understanding what is the values of the tribe you're trying to influence, and then figure out how to message them.
Andra: Playing into those passions, it's so important instead of just trying to change everyone's mind, and to get them to think that your solution and your product and your companies the best one. Just being the best one for something specific is much more reliable strategy definitely. And brand investment. Another key idea that you've highlighted that, I would like to kind of emphasize, especially because in the past years, it's data driven everything. But even though data helps us a lot. branded The brand is the one that inspires that emotion that we so naturally get to. Oh, I have an interesting question that I know, is right up your alley. And they asks about the brains endemics. So how do you make sense of your let's say, three brains working together reacting feeling and reasoning, when you have to make a quick decision?
Tim: Oh, you don't make sense to them, the brain works automatically. So you can think of your conscious brain which involves language or conscious thought and so on. And you can think of your unconscious brain the unconscious is taking in massive amounts of information all of the time, your your body temperature, what your digestion is doing the weight of your butt on the seat right now, as you're listening to this webinar, the relationship of all of your joints in your body and space. That's why you don't hit yourself in the forehead with a fork when you're eating, you know where your hand is. So all of that information is coming in. And you have to process it automatically. There's no thinking about it, it would take too long to think about it you'd be dead before you could make informed decisions. So what's happening is your brains having all that come in 99.99999% of it is getting thrown out and ignored because it doesn't have survival implications. And the rest only a tiny part is getting acted on. And then if is formed under strong emotional circumstances, it might sort of get remembered and then memory is a whole nother shaky thing that You know, the purpose of memory isn't to be accurate, it's to help us survive. So you can't ever account on memories they fade all the time and change and you miss remember things.
Andra: I love that idea. And I think we should highlight on that note that when doing customer interviews, we have to be very careful about the questions that we ask. So we're doing getting customer research in general, you're getting people to recall those things.
Tim: Yeah, you're right. You want real product insights, go into the field and watch people use your products or services, or your competitors product or services in real life. So they're at home right now during quarantine. And you have to let the cat out and your your kids homeschooling and climbing on your leg. And in that context, what how do they use your product or service, get a reality check. Okay, not not about your classical focus group or any, anything like that those usually don't work.
Andra: Exactly. And when you're a startup, because there are so many to How to Web community, it's so so important to use your resources wisely. And to really get to the point and not beat around the bush, or try things that you've heard that might work, you have to figure out what works for you. And I feel like kind of that's the case. And then let's say personal development as well. Um, we have another question. So I asked you earlier, how your work change after doing all this research and kind of incorporating all of this knowledge into your work. But Andre asks, How do you believe you personally changed after going through all this research and the process of writing your book?
Tim: Hmm, that's a great question. So again, the book isn't applied to anything has really wide scope, I cover memory, learning language, gender differences, culture, language, I said language twice, you name it, it's a pretty ambitious book. But at the end, I have a chapter I called being more primal, and how to be a better human basically, and take yourself into account. So it comes down to a couple of keys for me. One is sleep, people really underestimate the importance of sleep. They say, well diet and exercise and sleep, no sleep, and then everything else is in fourth or fifth position combined. So if you're not getting seven to nine hours of sleep, you're really screwing yourself. It's daily life support, and other animals and like, say, I'll take our closest cousins as an example, ape, sleep eight to 10 hours, or sorry, 10 to 15 hours a day, we sleep only an average of eight. And our sleep is much more intense, because as to recalibrate us for all those social interactions the next day. So cheating yourself, going from six hours to seven to nine hours, you're really cutting off the biggest chunk of what's called REM sleep, which is a critical type of sleep at the end of the night, because it's tail weighted. So you're, you're killing yourself, you're also going to experience the world The next day, as more aggressive, you're going to misread people's micro expressions, you're going to not be as creative, whatever physical skills or conceptual stuff you learned the day before won't be learned. So stop cheating yourself on the sleep stop binge watching stuff, put your phone down. I don't even keep mine in my bedroom at night, get to sleep.
Andra: Yes, yes to all of that. So it's such a such a strong, yes, all of that, especially because I've gone through more than one burn out, unfortunately. And I felt exactly the way that you described this, I felt all the things I've tried to work on them in various ways, and I till I could get myself to sleep well. I couldn't fix, let's say any of the other things. They're so connected between them. And indeed, that's why we made better decisions after we sleep on it. All the kind of these sayings have a reason they may be kind of cliche, but they're true. And they've survived such a long time simply because they're true. Moving on to the next question, and just going back a bit into the idea of ethics. Christina asks, thinking of large scale sustainability, what do you think is more important to encourage an ethical marketing strategy or an ethical product?
Tim: Stephen Covey has a great book, and one of his basic principles is begin with the end in mind. So start with the goal you're trying to achieve. My goal is for us not to destroy the planet. So I start with that goal. And so I again, I may be a little cynical, and I'm going to say something that's controversial to an audience of marketers. But we're all sorry, caught up in this bullshit of growth and growth, hacking and market dominance and unicorns and pivoting and screaming our way to success. All of that stuff is unsustainable. So if you look at you know, what our biosphere can sustain and how we're consuming things on the planet, my goal would be as a marketer to apply this not to products or to money Getting strategy, but the goals like sustainable living, like to correct energy usage to more building of community, you can be a marketer, but you can use it for social influence or in government or working for an NGO, a non governmental organization and, or by volunteering and helping organizations that are doing good in the world market, in effect, things that are in line with your ethics. And so it doesn't have to be in the commercial world is my point. And even in the commercial world, we should think about, you know, whether hyper growth should be the goal and break out successful products. So I know that also philosophical, but and maybe against the grain of what most people are thinking, but I believe that's because we're not seeing this cliff we're driving towards very quickly.
Andra: That is true, I think that this is kind of one of the reasons that we kind of brought us all together here, because we're looking for answers. And we're looking for meaning. And I believe that using our skills and our knowledge and our expertise, 40 things, either part of our work, or as a side gig side thing, or whatever form it is, can also make it a source of meaning for us. And I saw this, this craving of meaning, especially in the past year where people got disconnected from their teams, they started working alone, and then they realize that maybe their jobs aren't as important as they thought they were. Maybe they're not making as big of a difference than they want as they wanted. So I think that this is definitely ok. These are some of the key questions that we should be asking ourselves.
Tim: Yeah, and one of the worst things you can do for people is to isolate them. So keeping them in maximum security prisons and their own individual cells for 23 hours a day is I believe will be looked at in the future is very inhumane. We need connection, there was a very famous study in the US has been running for eight years tracking Harvard graduates and their cohorts from the poor part of Boston in the same city. And what they found is in terms of life, satisfaction, happiness, health outcomes, the most important thing is your degree of social connections, by far, and if you don't have that, it's the medical equivalent of a two pack a day cigarette smoking habit, medically speaking. So that's how important our, our well being is our social connection. So anything you can do to promote that is very, very powerful. And will is probably the place to personally invest in.
Andra: Absolutely. And thank you for investing in this conversation. Because I feel like you managed to convey that level of energy you managed to come across, you know, you're, you're, you're on the other side of the world. But we definitely feel that your presence here in this conversation that you're giving us your best self. And that is something that we deeply treasure, and something that is very transformational. And to tie in a quick question that I got from Vladimir, the he asks how doing my podcast to help me make better decisions. And I wanted to use this specific example, this exact moment. This is what changed everything for me, because I got to feel this level of connection, understood the importance of aligning yourself with yourself cultivating that self awareness, figuring out, you know, what your strengths are, and figuring out how you derive that meaning and sense of achievement from your work that's not tied to numbers that you can find in analytics. That's basically having deeply, let's say, a deep conversation that connects to people. And that brings kind of amplifies the good in each other.
Tim: Oh, yeah, I just want to add something quick. About a year and a half ago, I went through an initiation retreat through an international organization called the mankind project, I highly recommend it to any man to show up as a kind of a complete human being. And one of the things we developed as part of that was a personal mission statement. I've done that before in my life. But this one really resonated for me because of the process we use to get there. So my personal mission statement is, I create a world of peace, safety and love through joyous expression and service. And that is, you know, when you're on mission, hopefully you've sensed Lakewood, you said this in this conversation. I feel very much on mission right now sharing this with you and with the audience. But mission and purpose is just as important as that social stuff I was talking about. Again, they've shown really strong health outcomes and life satisfaction outcomes, by just having a purpose. It doesn't even matter what it is just living for a purpose or having a mission. And so to me, my mission is my North Star. It's not a goal like in achieve like making money or something. It's the striving to be a better human being and knowing what direction I'm going in to do that.
Andra: That is a very powerful example. Thank you for sharing that with us. I feel like this is a process that have been accelerated like many of other things that we see around us, not just through the use of technology. But through lifting this identity crisis, I guess that the whole planet is going through in one way or another, no matter our age, or contacts or background, this is just something that you can definitely feel. And there's a ton of research on that as well. And there are so many explanations to why this is happening. And also clues about how it might evolve based on the information that you talk about in your book and all of the concepts there. So we're going to go to two or less questions. And thank you for everyone who asked all of these very meaningful and important questions, and I'm sorry, we can kind of incorporate them all. But I highly encourage you to to read Tim's book and, and to try to work towards answers by kind of exploring all his work yourself. Um, so I kind of my last question is, you know, where can people find you and dig deeper into your work? Where can they find your new book? How can they build that connection with you? Well, if you're interested in public speaking, and keynoting, if you want a really honest look at your website, and what's wrong with it, when one of my brutal guaranteed website reviews, all of that information is at Tim asch.com. That's pretty easy. The book is I'm holding a physical copy in my hand. But these are not widely available, except the Australian edition. So if you're in Australia or New Zealand, you can actually get the book topia edition of the book right now, but ebooks, the audio book narrated by me, so I hope I'll make that entertaining for people. And the autographed pre release copies, these won't be out till April, you can get directly at primal brain calm, which is the website for the book, if you want to see the full table of contents and other information about it. That's all there. So again, I said, I view this as going way beyond marketing and into just being a whole human being. And I and this is my attempt to give back to the world. Even definitely given us so much today. So much of your energy, so much, so many of your insights. And you can feel that honesty and transparency and I hope that we can to get our cultivate these values further in the community and apply them to, to our work to how we interact with one another to help we build things together. Thank you again for being on How to Web live. It's been an absolute pleasure talking to you. And I'm really keen to see what everyone thought of this session and see what they make of it going forward. So thank you again, Tim.
Tim: Oh, it's been my honor. And my pleasure, and thanks for everyone for taking the time to listen in.
8
You may also like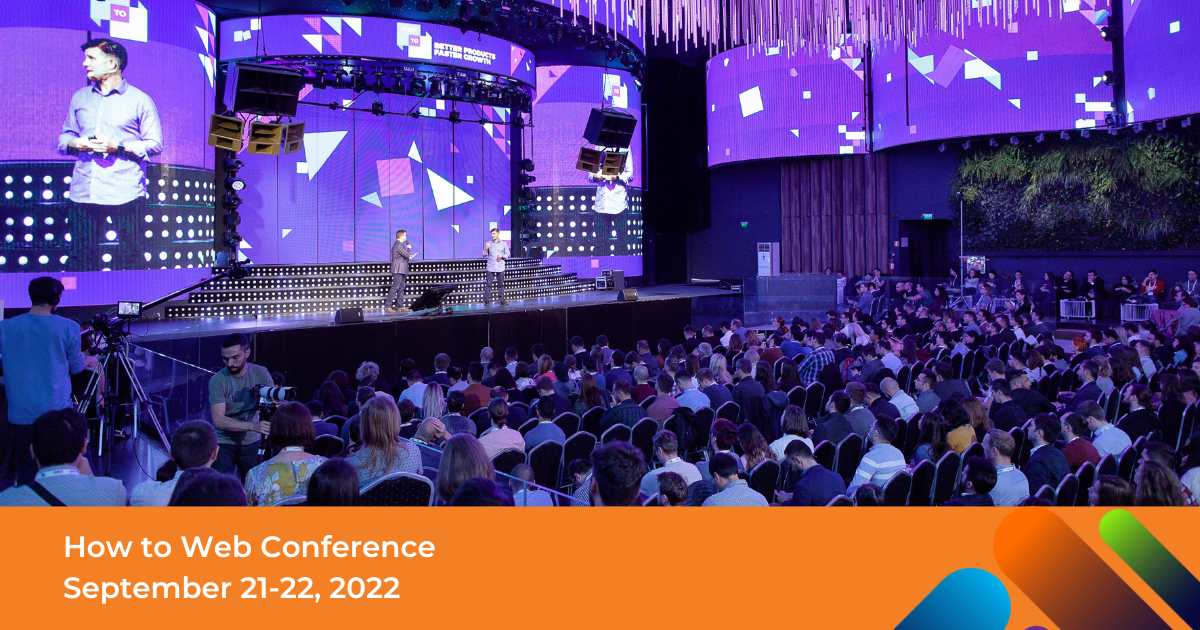 Welcome to How to Web Live! The show you need to watch to find out the latest news and trends from who's who in the tech industry. Every other Thursday, log in on Crowdcast and get inspired! This third episode titled "Powerful Persuasion" that aired on October 8, 2020, we had Tim Ash (keynote speaker,… Read more »
8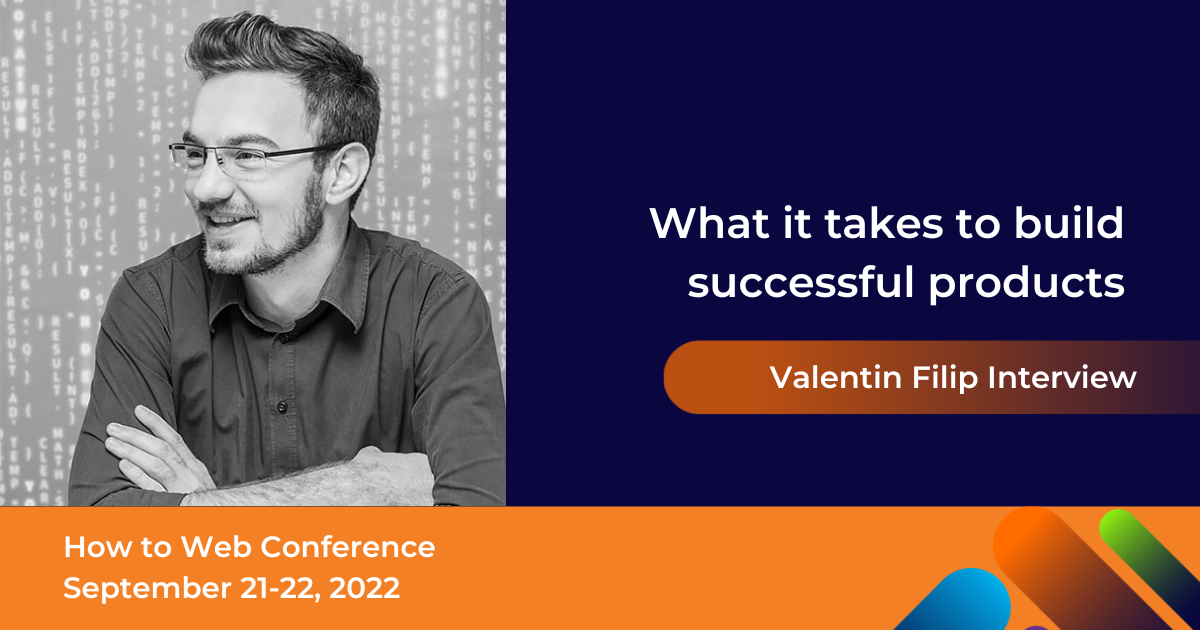 Welcome to How to Web Live! The show you need to watch to find out the latest news and trends from who's who in the tech industry. Every other Thursday, log in on Crowdcast and get inspired! This third episode titled "Powerful Persuasion" that aired on October 8, 2020, we had Tim Ash (keynote speaker,… Read more »
8